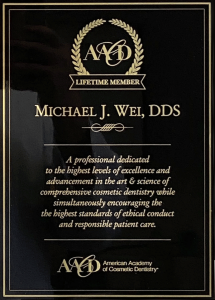 Dr. Michael J. Wei, NYC cosmetic dentist, has received the honor of being named a lifetime member of the American Academy of Cosmetic Dentistry (AACD). Only 10 AACD members were given this designation this year, a distinct status that shows a dentist's commitment to responsible esthetics. Dr. Wei is dedicated to comprehensive cosmetic dentistry and encouraging the highest standards of ethical conduct and responsible patient care.
Manhattan Cosmetic Dentist's Honors
Dr. Wei's dental honors are numerous, being named Top Dentist and Top Cosmetic Dentist many times over. Along with lifetime membership in the American Academy of Cosmetic Dentistry, Dr. Wei is also part of the Academy of General Dentistry, the American Dental Association, the New York State Dental Association, and the New York County Dental Society.
He is invested in the dental community, in furthering his own education and abilities, and in offering the very best and latest innovations to his clients so they can have healthy, beautiful smiles. This latest honor is just one more well-earned addition to his resume.
"I am proud to have received this plaque for being a lifetime member of the American Academy of Cosmetic Dentistry. I believe in this organization, which helps foster young dentists to achieve the highest level of excellence in the art and science of cosmetic dentistry," says Dr. Wei. "A wonderful organization like the AACD provides opportunities for continual learning, networking, and a sense of camaraderie with your colleagues. I will hold steadfast to the academy's principles of ethical conduct, responsible patient care, and always strive for excellence."
Comprehensive Cosmetic Dentistry
A Manhattan cosmetic dentist like Dr. Wei is well aware of the needs of his patients. In a city like New York, appearance plays a major role in peoples' professional and social lives. Dr. Wei is dedicated to offering comprehensive cosmetic dentistry treatments to qualified adults, including:
Porcelain veneers: Wei's advanced training allows him to offer veneers in several forms, including prepless veneers and Microthin veneers, which do not require the alteration of natural tooth enamel to complete the procedure.
Teeth whitening: Choose from one-hour, in-office teeth whitening to transform your smile in no time, or get customized whitening trays and professional-grade whitening gel to use on your own time at home for stunning results.
Cosmetic tooth bonding: Small cosmetic dental issues can create big smile problems, but cosmetic tooth bonding repairs damaged or discolored teeth so they blend in with the rest of your smile. This non-invasive procedure takes only about 30 minutes per tooth to complete.
Smile makeovers: Whatever you dislike aesthetically about your smile can be corrected through a customized smile makeover. Whether your makeover consists of one procedure or many, the ultimate result is always a new, flawless smile.
Make Dr. Wei Your NYC Cosmetic Dentist
Dr. Wei is an accessible dentist. If you are in search of a talented perfectionist who is ready to help you achieve your smile goals and oral health needs, schedule a consultation with Dr. Wei to discuss your questions and hopes and find out if you're a good candidate for cosmetic dentistry. Feel more comfortable staying online for now? Submit a Smile Virtual request to get things started and receive a personalized video message from Dr. Wei.