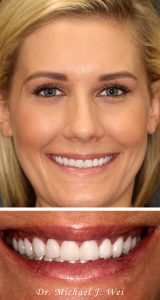 If you're unhappy with the condition or appearance of your teeth and gums, you're already a good candidate for a smile makeover. The only question now is, "What are the right smile makeover procedures for you?" Find out what makes a person a qualified candidate for a smile makeover from Dr. Michael J. Wei, Midtown Manhattan cosmetic dentist.
Talk to Your Midtown Manhattan Cosmetic Dentist About Your Smile Makeover
You may have visions of a quick smile makeover that transforms your teeth within a matter of hours or one visit to your dentist, like cosmetic tooth bonding or professional teeth whitening. This kind of change is possible. Your teeth, however, may not be the right kind of teeth for procedures like this.
Every smile makeover consultation consists of a discussion about your smile goals, but it also includes time for your dentist to review the current condition of your oral health to determine what's possible for your smile upgrade.
That initial consultation and evaluation will give you all the information you need about what's viable for your smile upgrade.
Becoming a Candidate for a Smile Makeover
The first smile makeover step is desire. You want that VIP smile, that celeb smile, that five-star, megawatt, flawless, bright white smile – and you should have it. Getting there may take time, but it is always possible to fix what's broken with your smile, to correct the elements you dislike or that make your teeth unsightly.
The second smile makeover step is to determine what's really possible for your unique teeth. For example, maybe you were thinking about Invisalign and teeth whitening, but why undergo two procedures when one – porcelain veneers – could do the job even better and take less time, especially if you're a good candidate for veneers? They are long-lasting, super-durable, stain resistant, and customized to your unique appearance.
The third smile makeover step is to make sure your teeth are healthy enough to serve as a good foundation for your new smile. Maybe early signs of gum disease were discovered during your exam, maybe you have a cavity. Any problems will need to be addressed first to ensure that your teeth and gums are strong and clean and free of decay or infection.
Be Open-Minded About Your Smile Makeover
Once you envision yourself sporting gorgeous new teeth, it's hard to break that image and replace it with something else, even at your Manhattan cosmetic dentist's urging. After all, you've been coveting a certain celeb's smile for years and now it's your turn to have the same thing. Yes, absolutely, there is no reason you can't have that smile makeover – the path to get there just might be a little more circuitous than you originally thought.
Smile Design software helps many candidates for a smile makeover see what's really right for their unique case. You can have photos of yourself with veneers, or dental crowns, or Invisalign, or dental implants – and you can live with these pictures for a while. Consider your options. Share them with loved ones. Get opinions and really mull over your smile makeover before you hit the green light.
Keep in mind too that if you need any dental restorations or repairs done, this can be considered part of your overall smile makeover. After all, modern restorative dentistry is designed to not only repair teeth but beautify them too. So sure, you might need a root canal or filling, but your dentist will leave that tooth looking strong and healthy and natural after all that work is done so your smile makeover as a whole is not marred.
Find Out If You're a Good Candidate for a Smile Makeover
Whether you are dissatisfied with your gapped, chipped, stained, misaligned, short, uneven, worn, or otherwise imperfect teeth, contact Dr. Michael J. Wei at his cosmetic dentistry office on Madison Avenue to schedule your smile makeover consultation. Get on the road to a brand new, beautiful you with a gorgeous smile.