By Dr. Michael J. Wei, DDS –
Manhattan New York City Cosmetic Dentist
Get brighter, whiter teeth in 1 visit with teeth whitening.
Want brighter, whiter teeth that will make you look great and years younger? In just 1 hour you can get dazzling white teeth. Lighten and brighten your teeth dramatically with safe and effective teeth whitening in our office or in the comfort of your home own home.
How Teeth Whitening Works:
In-Office Teeth Whitening:
For best results, choose our quick and convenient professional in-office teeth whitening. We can provide you with our popular Rembrandt Sapphire Teeth Whitening option. In just 1 hour you'll have dazzling bright white teeth that will add a new sparkle to your smile. During your treatment you can sit back and watch our flat screen television with noise-reducing Bose headphones for your entertainment.
At Home Teeth Whitening:
If you want home teeth whitening, Dr. Wei will provide you with professional teeth whitening gel and custom trays. Results rival those of our in-office teeth whitening, but the home kit requires two weeks of treatment.
Before & After
Case 5
Ralph was concerned of his dark, stained, fractured, upper front teeth. He never liked his upper front teeth and was always embarrassed to smile. He wanted a nicer, whiter, and brighter smile without spending too much money. By using 2 Porcelain Veneers, 2 Porcelain Crowns, and Teeth Whitening we were able to give him a whiter and brighter smile he is proud of.
Dark Teeth
Fractured Teeth
Stained Teeth
Worn-Out Smile
Space Between Teeth
Solutions
2 Porcelain Veneers
2 Porcelain Crowns
Teeth Whitening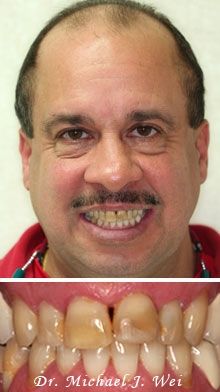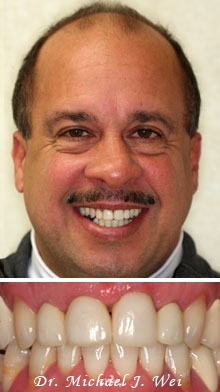 Slide the blue tab to the left or right to view the before and after images.
Call us today at 212-982-4080 for a Free Consultation, Appointment,or for more information about our Teeth Whitening orManhattan and New York City Cosmetic Dentistry Services
Find out why our patients love us. See what our happy patients have to say about our quality dental services and personalized dental care. Read our reviews online at Google, Yelp, Citysearch, Insiderpages, SmileReminder, Facebook, and MyNYCCosmeticDenitst.
Why Choose Dr. Wei?
A Proven Dentist – Dr. Wei is one of Manhattan's top cosmetic dentists. Dr. Wei's cosmetic dentistry includes world-class laboratory support from the best labs in the world. Dr.Wei is the recipient of numerous awards and accolades.
High Success Rate – Dr. Wei has over 16 years of experience with dental services. Plus, Dr. Wei stands behind his work with a warranty.
Delivery Excellent Results – Dr. Wei has first class technicians and world-class laboratory support. Dr. Wei works very closely with his master dental technicians to ensure you get the best results. Dr. Wei offers the very best quality dental care available.
Easy Financing Available with No Financial Surprises – All financial arrangements are done at our dental office and there will no surprises that cost you more. No hidden costs and no additions after your treatment plan is confirmed and treatment begins.
Fully Warranted – – Dr. Wei will take care of any issues from start to finish. On the rare occasion that a problem should occur, Dr. Wei will fix the problem promptly with no additional fees.
There is usually a follow-up visit for final adjustments, and to review instructions for care of your new smile. Cosmetic dentistry provides a beautiful new smile and last for years and years.
Call us for an appointment:
212-982-4080