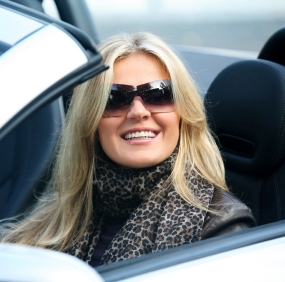 When you have an aesthetic complaint about your teeth that would benefit from cosmetic dentistry, or you have an oral health problem that requires restorative dentistry, the options about what's available for your care can be confusing. What's the best choice? What will last the longest? What will give you the most bang for your buck? A consultation with your cosmetic and restorative dentist is the best place to begin so you can have a professional really tell you what's going on with your teeth. In some cases, several types of treatments are viable options. Here are some of the most versatile solutions you'll find.
Porcelain Veneers
Porcelain veneers are the everyman's cosmetic dentistry solution. Not only do they solve functional issues, they create a gorgeous new smile as well. If your teeth are so deeply discolored they resist even professional teeth whitening, veneers solve that problem. If you are dealing with cracks or chips, veneers correct these annoyances while restoring the functionality and strength of your teeth. Want to eliminate gaps or align your teeth without braces? Veneers get the job done. Wafer-thin and custom-designed to suit your smile, mouth, and tooth color, veneers are shaped and shaded so that they complement your appearance and look like natural teeth.
7 professional benefits of a smile makeover >>
Porcelain Tooth Crowns
You have one problem tooth, or perhaps a few, but even the smallest aesthetic and practical dentistry solutions are considered a worthwhile smile makeover. When you are dealing with damaged teeth in particular, especially those that have large cavities, cracks, or holes, porcelain tooth crowns save the day, revitalizing your smile. Dealing with old and unsightly metal dental work? Crowns restore your smile into a natural-looking one. Need to repair chips, fill gaps or spaces between your teeth, whiten severely discolored teeth, or create a more uniform smile? Porcelain crowns are permanently bonded to your damaged tooth in just two visits to the dentist.
Mind the gap with porcelain veneers and more cosmetic dentistry treatments >>
Tooth-Colored Fillings
When you have a cavity, your tooth hurts and it may not look healthy either. And the last thing you want to imagine is a noticeable silver gleam in your smile announcing that you had a cavity filled. Not only are amalgam fillings unattractive, sometimes over time turning the rest of your tooth and the surrounding area a grey color, amalgam fillings are made with mercury and are toxic to your system. There is an alternative – tooth-colored fillings. These fillings are made with a composite resin that looks like your natural teeth. Tooth-colored fillings are mercury-free and enable you to get a tooth repair that isn't noticeable at all. The composite material support and protect your teeth, recreating a strong tooth without compromising your overall health or exposing you to toxicity.
Porcelain Inlays and Onlays
When you have a partially decayed, damaged, or broken tooth, you might seek a restorative dentistry solution that is a little less invasive than a full porcelain crown. Porcelain inlays and onlays are a less-invasive option for smaller repairs but offer a big impact in the process. Inlays are customized to fit just inside the cusps of your damaged tooth while onlays go over or replace the cusps of a tooth. Onlays are sometimes referred to as a partial crown. Inlays and onlays are stain resistant, incredibly durable, and look, feel, and function just like natural teeth.
Find out the right smile makeover solution for your teeth. Visit Manhattan cosmetic dentist Dr. Michael J. Wei for your consultation.