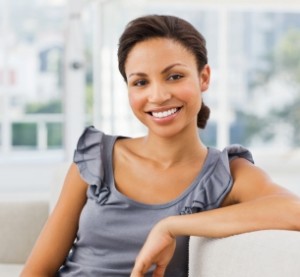 Porcelain tooth crowns are incredibly strong. They're also versatile and can serve as a repair for a fractured tooth, prevent a weak tooth from fracturing, anchor a bridge, fill gaps or spaces between teeth, hide tooth discoloration, or restore uniformity to oddly shaped teeth. Crowns are not infallible, however, and after a few decades of use or the unwise decision to attempt to open a bag with your teeth, one wrong bite down can dislodge the crown.
The good news – losing your crown likely didn't hurt. The bad news – you're now stuck with a gap in your smile that is probably covering a jagged and unsightly tooth. Place a call to your dentist as soon as possible to find out the best way to proceed – you don't want to leave your original broken tooth exposed for too long, not only because it's unattractive but also because you're leaving it susceptible to greater damage and bacteria.
Cracked, chipped, or broken teeth? Meet the supremely versatile porcelain tooth crown >>
There are multiple options available for repairing your broken crown, which your dentist will discuss with you. Expect to hear about a number of restorative dentistry solutions such as:
Replacement crown: In most cases, if you lose or break a porcelain crown, you will get a crown to replace it. Replacing a porcelain tooth crown typically takes only two visits to the dentist and it is customized to fit your smile, including the size, shape, and shade of your existing teeth. The crown will look natural and it will be bonded in place so you can enjoy a few more decades of a healthy, complete smile.
Partial crown: Sometimes referred to as a dental onlay, a partial crown helps repair a tooth that needs more than a filling but less than a crown to get back in attractive, working condition. A composite onlay is applied layer by layer to the surface of the tooth to build it back up and to recreate the cusps of the tooth. This procedure strengthens the tooth and finishes your smile so it looks whole again.
Dental implant: If your porcelain crown has broken or come out of your mouth, it may be because of its age, or because of the condition of the natural tooth that resides underneath the crown. If this tooth is so worn down or attacked by decay, your dentist's recommendation may be to pull the tooth and replace it with a dental implant. By making this choice, you are saving yourself from a great deal of restorative dentistry, and potentially gum disease treatment down the road. The implant will take the place of your tooth's root, stimulating your jaw bone and helping to prevent any further tooth loss, and the prosthetic attached to the implant will be custom-made to look just like one of your natural teeth so that it isn't noticeable at all.
Is it time to upgrade your cosmetic dentistry? >>
Restorative dentistry is intended to last for a long time, but there are always circumstances that can affect the solidity of your dentistry treatments. Don't be ashamed of your smile, or of a dental problem. Always tend to a broken smile as soon as possible so that the rest of your teeth are not compromised. Visit Manhattan restorative dentist Dr. Michael J. Wei to learn more about repairs for your porcelain tooth crowns, or upgrades for the rest of your smile.