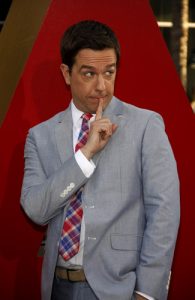 Dentists may not have any dental-dedicated television shows that dramatize their profession like doctors and lawyers do. However, characters who are dentists make their fair share of appearances in movies and TV shows. The portrayals of dentists in pop culture – from nerdy and boring to sadistic and abusive – have created stereotypes for the profession that can make some patients fearful and make others laugh. Here are a handful of the more memorable fictional dentists, though most of them are unlikely to get an endorsement as someone to visit for a quality smile makeover.
Become a selfie star with a smile makeover >>
Dr. Tim Whatley from "Seinfeld"
Long before "Breaking Bad," Bryan Cranston made his mark as Dr. Tim Whatley, Jerry's dentist on "Seinfeld." Rather than being known for his porcelain veneers or porcelain tooth crowns, Whatley is directly involved in the coining of Seinfeld-isms, like the "re-gifter" and the "anti-dentite." His dental skills are not brought into question, but his ethical choices as a dental professional are, with shades of grey – it was "the show about nothing" after all.
Want to be a celeb? Get a smile makeover in Manhattan >>

Dr. Julia Harris from "Horrible Bosses"
She may not be someone you'd want to work for, but Dr. Julia Harris' dental capabilities are never addressed in the movie "Horrible Bosses." You could assume that her cosmetic dentistry and general dentistry skills are firmly in place. Hilariously portrayed by Jennifer Aniston, this dentist's biggest problem is that her dental assistant attempts to hire a hit man to take care of her because he's had enough of her sexual harassment.
Celebs who are famous for not getting a smile makeover >>
Dr. Stuart "Stu" Price from "The Hangover"
Responsible, practical, and a little bit of a nerd, Stu sets himself up to be the butt of many a joke in "The Hangover," referring to himself as a doctor and not a dentist. Ironically, in a moment of drunken oblivion, Stu performs his own tooth extraction to prove that he is a good enough dentist to do so. In real life, the actor who portrays Stu, Ed Helms, was able to convince his own dentist to remove his real dental implant so that his character could have a realistic missing tooth (a process unlikely to be endorsed by your Midtown Manhattan dentist).
7 male celebrities who owe their smiles to cosmetic dentistry >>
Hermey the Elf from "Rudolph the Red-Nosed Reindeer"
The one fictional dentist – or, rather, wanna-be dentist – from this list who elevates the profession is Hermey the Elf from "Rudolph the Red-Nosed Reindeer." Hermey makes dentistry a career to aspire to, and he would rather be a misfit who is happy in his role checking the oral health of toys than be stuck doing a job that doesn't satisfy him. Even though Hermey doesn't fit in, his natural ability as a dentist with a great chairside manner serves him well as he goes on his winter adventure with that famous reindeer.
Smile makeover or natural beauty? Female celebs with the best teeth >>
When you watch a movie or television show and see how dentists are represented in pop culture, the characters may make you cringe or worry. Rest assured, you're in good hands with Dr. Michael J. Wei, the Manhattan cosmetic dentist who will make you feel comfortable, at ease, and confident in his abilities. When you're ready to talk about your smile makeover options, from teeth whitening to Lumineers, contact our Midtown Manhattan dental office to make your appointment for a consultation. Don't let fictional portrayals of dentist get in the way of your new smile.