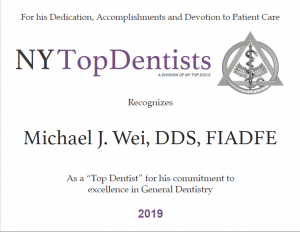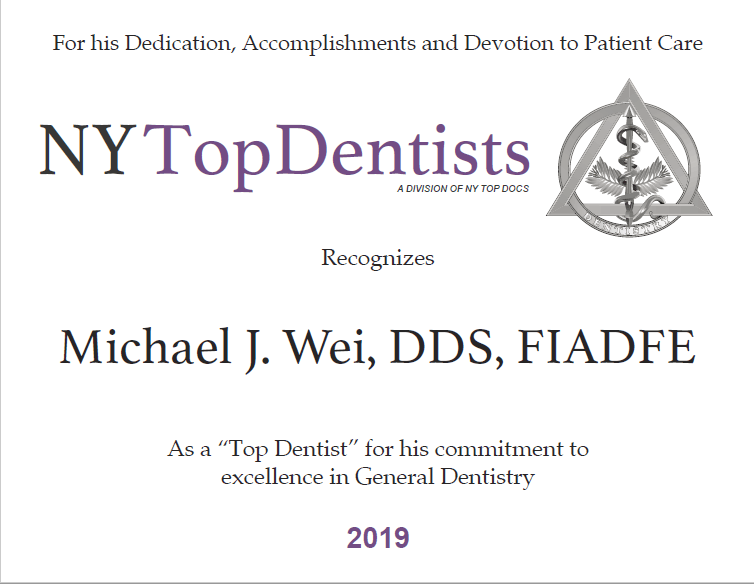 Dr. Michael J. Wei, Manhattan cosmetic dentist, has been named New York Top Dentist for 2019. The award is given by the Top Dentist Division of USA Top Docs to experienced and deserving dentists who have undergone a comprehensive review process. Dr. Wei is recognized locally and nationally as an exceptional dentist among his peers and patients, and this merit-based honor solidifies his position as a respected dentist in Manhattan.
Achieving the Top Dentist Award
New York Top Dentist status is only given to professionals who have been approved based on merit after an extensive vetting period. Doctors cannot and do not pay for this recognition. Each applicant must undergo a thorough review that includes:
Submitting a comprehensive qualification questionnaire.
In-depth screening process.
Board certification.
Minimum years in practice standards.
Malpractice and license review.
Patient reviews.
Dr. Wei is committed to continuing education and has pursued and completed advanced training classes from dental institutions around the world. He considers it a privilege to treat his patients out of his Madison Avenue office, perfecting their smiles, making them feel good about themselves, and giving them the foundation for better personal and professional lives.
Comprehensive Dental Care from NY Top Dentist
"I am honored to be named a NY Top Dentist," says Dr. Wei. "I take special pride in providing comprehensive dental services in New York City." His menu of treatments and procedures includes:
Cosmetic dentistry: From porcelain veneers to Lumineers, tooth bonding to teeth whitening, cosmetic smile upgrades change how you look and feel and give you that perfect smile you've always wanted.
Restorative dentistry: Teeth, gums, and overall oral health that is in great disrepair can have new life with dental restorations like dental implants, porcelain crowns and bridges, full-mouth reconstruction, inlays and onlays, and tooth-colored fillings.
General dentistry: Basic oral health care keeps your teeth in good shape so they're fully functional and cavity free. This category includes laser gum lifts, mouthguards, gum disease treatment, and TMJ therapy.
Smile makeovers: Customized smile makeovers can be big or small but they all end with a smile that makes the patient look better, feel happier, smile more, and regain their confidence.
Full-mouth reconstruction: Broken-down smiles and poor oral health are rejuvenated through restorative dentistry and cosmetic treatments. Teeth, bite, and jaw are rebuilt to be structurally sound so your smile can then be beautified and perfected with aesthetic procedures.
Sedation dentistry: Anxious dental patients find great relief in sedation dentistry options that allow them to "sleep" through lengthy or in-depth dental procedures.
Make a Top NY Dentist Your Dentist
Dr. Wei is proud of this Top Dental accomplishment, but he does not consider the honor his alone. "I could not do be successful in my work without my amazing team. I thank each and every one of my staff members for their talent and commitment to patient care, which is essential to helping make our practice the best in New York."
If you would like to see a NY Top Dentist for all your oral health care needs and cosmetic smile makeover goals, contact Dr. Wei at his Midtown office to schedule your consultation.