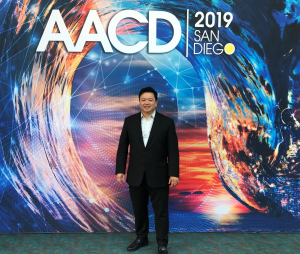 Cosmetic dentistry is changing all the time. Innovative techniques are debuted and taught at professional gatherings like the American Academy of Cosmetic Dentistry (AACD) Conference, which Dr. Michael J. Wei attended in San Diego from April 24-27, 2019. As a Midtown cosmetic dentist, Dr. Wei is dedicated to continuing education and learning about modern dental procedures and products, so he can continue to deliver advanced, stunning smile makeovers for his patients.
Sophisticated and Innovative Continuing Education
The AACD Conference is unique in its offerings for dental professionals. Attendees are invited to engage with technologies and products in a hands-on manner, familiarizing themselves with what is available and appropriate for their own cosmetic dentistry practices. Dozens of digital technologies are on display, from 3D printers to digital smile design to polishing systems.
Perfect smiles are created through excellent dentistry and well-trained and experienced dentists. Dr. Wei jumped right into the offerings at the AACD Conference, learning new cosmetic dentistry techniques and cutting-edge procedures.
As Dr. Wei makes clear to all his patients – every smile makeover is customized. Having a bountiful arsenal of cosmetic dentistry tools allows him to create beautiful new smiles personalized to each patient. The AACD Conference offers advanced dental training and tangible ways to engage with new products and dental innovations.
Cosmetic Dentistry Procedures in Midtown
Cosmetic dentistry is a science and an art. It is a meticulously executed area of dentistry that takes a perfectionist mindset to successfully complete. The practice of cosmetic dentistry, however, does not have to be a solo experience when it comes to learning. By working with his peers and colleagues at the conference, Dr. Wei had the opportunity to absorb information about dental materials and methods, practice his skills, and take part in self-enrichment.
"I learned new techniques and procedures on cosmetic dentistry and I look forward to implementing these competencies into my practice," says Dr. Wei. As a well-respected dentist in Midtown, Dr. Wei already offers a comprehensive menu of cosmetic dentistry options for smile makeovers, including:
Porcelain veneers: The king of cosmetic dentistry, porcelain veneers are strong, natural-looking, and long-lasting, covering up every aesthetic complaint you have about your teeth and giving you that coveted celeb-worthy smile. You may even be a good candidate for prepless veneers, a less-invasive way to perfect your smile.
Teeth whitening: Teeth whitening has always been popular and always will be. This easy, fast cosmetic dentistry treatment makes tooth enamel multiple shades whiter for a stunning smile.
Lumineers: The non-invasive alternative to porcelain veneers, Lumineers are a procedure that conceals the unsightly elements of your smile and gives you a complete, gorgeous smile in just two visits to Dr. Wei.
Cosmetic tooth bonding: A little goes a long way with dental bonding. If you have one or two unattractive teeth, bonding is a quick and non-invasive solution to return those teeth to their natural beauty. It only takes about 30 minutes per tooth to get the job done.
Are you ready to revolutionize your smile? Visit a dentist who has the knowledge, experience, and determination to give you flawless, beautiful teeth. Contact NYC cosmetic dentist Dr. Michael J. Wei at his Madison Avenue office in Midtown to schedule your appointment.