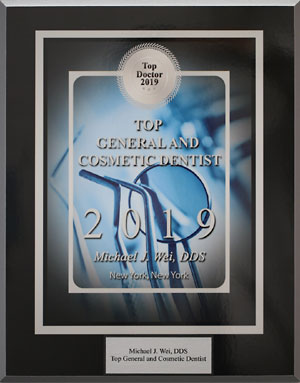 Dr. Michael J. Wei, Midtown Manhattan general and cosmetic dentist, has been awarded the title of Top General and Cosmetic Dentist by the Top Doctor Awards. This recognition celebrates the achievements of today's most influential and respected practitioners in dentistry and medicine. Dr. Wei is honored and privileged to be counted among such an esteemed grouping.
What Makes a Top NYC Cosmetic Dentist?
Dr. Wei is well-known in Manhattan. With a five-star reputation for creating flawless, natural-looking smile makeovers, he has treated patients in white-collar jobs and blue-collar jobs, creatives and nine-to-fivers, working parents and stay-at-home parents, male and female, young and old. Every demographic has found their way to Dr. Wei. They seek out the best to get the best smile makeover.
Dr. Wei is dedicated to the craft and specialty of cosmetic dentistry and the pursuit of continuing education. He makes it a priority to present his patients with dentistry innovations so they can have beautiful smiles.
Some of Dr. Wei's top Manhattan cosmetic dentistry offerings include:
Prepless veneers: Want gorgeous teeth without an invasive procedure? Prepless veneers are the best way to achieve celeb-worthy straight, white, stunning teeth without grinding down tooth enamel to make room for the super-thin porcelain shields that create that beautiful new smile.
Digital smile design: Wish you could see yourself with your smile makeover before you say yes? Want to share your potential new smile with friends and family? Digital smile design is a sophisticated technology that makes it all possible.
Teeth whitening: As a cosmetic dentistry offering, teeth whitening will never go out of style, especially for busy New Yorkers who need to up their game in a heartbeat. In-office whitening treatments can be completed in one hour, letting you get a brilliant smile that is shades whiter so you can go right back to whatever it is you were doing in the city with barely any downtime.
Choose a Top General Dentist in Midtown
There is no cosmetic dentistry without quality general dentistry. You need healthy teeth and gums to take advantage of all available cosmetic smile enhancements. Dr. Wei is dedicated to giving his patients a strong foundation of good oral health so they're eligible for the smile upgrades they want.
Some of his essential general dentistry offerings include:
Dental check-ups: Even if you are diligent about brushing and flossing at home, part of good oral hygiene is seeing your NYC dentist twice a year for a dental check-up and thorough teeth cleaning. At these visits, Dr. Wei examines your teeth and gums, reviews x-rays, conducts an oral cancer screening, and makes sure your mouth is completely healthy.
Gum disease treatment: Gum disease is the leading cause of tooth loss among adults. If you have avoided regular dental visits and your teeth have fallen into disrepair, it's not too late to fix what's broken with the root scaling and planing that are the hallmarks of gum disease treatment.
TMJ therapy: When your temporomandibular joint is out of whack, it can contribute to teeth grinding and clenching. This problem can lead to enamel erosion, gum recession, and, eventually, broken teeth and the destruction of cosmetic and restorative dentistry.
Have your teeth taken care of by a top cosmetic and general dentist in midtown. Schedule a consultation with Dr. Michael J. Wei today.