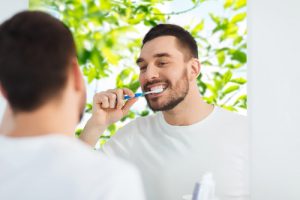 The three Rs of Earth Day are Reduce, Reuse, and Recycle. Applying this mantra to your oral health care routine helps do two important things: It truly makes a difference in reducing your carbon footprint and makes you more mindful of how you take care of your teeth. When you maintain a healthy smile, you ward off the need for restorative dentistry and keep your teeth ready for the cosmetic dentistry you can't wait to get when the COVID-19 quarantine is over.
Develop a More Sustainable Dental Routine
Being in quarantine can make you think about everything you do, the meaning behind it, whether it's worth your while, and whether you could be doing something more. You can find yourself contemplating every aspect of your life and your role in the world, especially on Earth Day – and that includes how you take care of your teeth.
Here are just some of the small things you can do every day that make a big difference for the planet:
Turn off the water. You should be brushing your teeth for two minutes morning and night. After you wet your toothbrush, turn off the water until you're ready to rinse your mouth. Mindlessly letting the tap run wastes gallons of water.
Exchange your toothbrush. Plastic toothbrushes are the norm, but you can find a natural toothbrush made from recycled or renewable materials. The same rules still apply with toothbrush use – change it every three to six months for maximum cleanliness.
Compost your toothbrush. Biodegradable toothbrushes can, believe it or not, be added to your compost pile. This type of toothbrush is often made of bamboo and the handle can be composted if you remove the nylon bristles first.
Reuse your toothbrush. If you want a versatile and handy tool in your house, that would be the toothbrush. When you can't compost or recycle your plastic toothbrush, reuse it. Earmark it for cleaning jewelry, scrubbing grout, or doing other household jobs.
How you brush is just as important to helping the planet as the methods and tools you use while brushing. Here are some habits to adopt that are better for your oral health – and can save you unnecessary trips to the dentist.
Slow down. If you take your time and brush your teeth gently but thoroughly, they will all get the proper amount of attention and your gums won't suffer recession from a heavy hand. Being methodical and purposeful about your brushing will also help your toothbrush last longer, which reduces waste.
Keep flossing. Daily flossing is necessary. Run-of-the-mill dental floss and containers, however, are rarely eco-friendly. You can avoid single-use plastic floss picks to minimize your footprint. Look for biodegradable silk dental floss which is compostable and often comes in eco-friendly refillable glass or recyclable cardboard containers. If you want to eliminate floss entirely, you could invest in a high-powered water jet to remove food particles and plaque every day.
COVID-19 has forced us all to rethink how we live our lives – let's figure out how to live even better. That's something to smile about.
If you need to schedule an emergency appointment at Dr. Michael J. Wei's Madison Avenue dental office in Midtown Manhattan, contact us today.