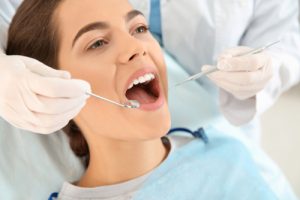 You did it. You took the plunge and finally got the porcelain veneers you've always wanted. Unfortunately, the result was definitely not what you envisioned. Now what? Many people are tempted by a dentist's pricing or promises. Instead of a great deal and amazing results, they feel cheated by a less-than-perfect smile makeover. Now you're in the market for a new dentist to fix another dentist's bad veneers.
Porcelain Veneer Mistakes Other Dentists Make
You're looking for a different cosmetic dentist who can fix what another dentist ruined. Look for the expert with experience, photographic proof of great results, and testimonials from satisfied patients.
Here are some of the most common veneer mistakes of inexperienced dentists that other cosmetic dentists are asked to fix:
Choosing the wrong color for veneers. One of the characteristics of your veneers that you and your cosmetic dentist will spend the most time discussing is color. You want bright white teeth, celeb-worthy teeth. The definition of white teeth, however, will vary for everyone, depending on many factors, including the color of your tooth enamel underneath, your skin coloring, your age, and the whites of your eyes. Teeth should look healthy, flawlessly white but not be so white they look fake.
Messing up translucency. Just as important as the color of veneers is their translucency, the characteristic that reflects light. When translucency is miscalculated, veneers can look flat and dull instead of bright and natural.
Making veneers too big. We can all think of a celeb who has gotten bad veneers, especially when their new teeth are horse-like – too long, bulky, and resembling Chiclets gum. Veneers should be subtly sized and shape to be different but blend together so they look like a natural smile, not a cookie-cutter one. Size matters when it comes to veneers, and they should flatter your face, not take it over.
Attaching veneers poorly. Maybe your veneers look pretty good, but they weren't bonded to your teeth all that well. If teeth are not prepped properly underneath to make room for the veneers – whether this means sanding down tooth enamel for conventional veneers or gentle prep for Microthin veneers – this can affect the appearance of the veneers and put you at risk for infection or decay in between veneer and tooth.
Fix Your Smile Makeover Now
Here is the most important thing to know: If you got bad veneers, you don't have to live with them. You may be embarrassed or self-conscious about your appearance right now, but you can find the right cosmetic dentist to finally give you the smile makeover of your dreams.
Did your dentist overpromise, underdeliver, or underperform your smile makeover? Trust in the experience and expertise of Dr. Michael J. Wei to fix someone else's errors and make you want to smile. Schedule your consultation with Dr. Michael J. Wei at his Midtown Manhattan office, or submit a Smile Virtual request online from the comfort of your home to get things started. A new, better smile awaits you.