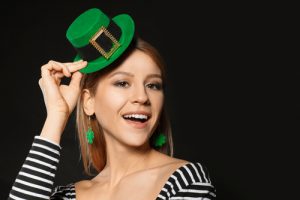 People say you make your own luck. Choosing to get a smile makeover is absolutely one way to change your fate. Cosmetic dentistry is a powerful method for manufacturing the look you want. Whether your goal is to do a major overhaul or tweak little problems, there is a smile makeover that's right for you.
Powerful Porcelain Veneers
There is no cosmetic dentistry procedure quite like porcelain veneers. First, the veneers options are plentiful. You can get traditional veneers that require the removal of some natural tooth enamel to make room for the porcelain shields. You could instead choose Microthin or prepless veneers which require little to no prep of the teeth and are reversible should you one day decide to remove the veneers (though why would you want to?). Ultimately, veneers conceal every aesthetic problem with your smile, from chips to cracks to discoloration to misalignment.
Truly Transformative Teeth Whitening
When you want a fast, effective, smile-altering smile makeover, professional teeth whitening gets the job done. You must qualify as a good candidate for this procedure first – most people can benefit from it, unless your tooth stains are part of your enamel. Whitening can happen in your Midtown cosmetic dentist's office in about an hour, or you can get take-home whitening trays instead to brighten up your teeth on your own time. Your teeth don't even have to be straight and perfect to get the maximum benefit from a professional teeth whitening treatment – the results are so powerful they will create the illusion of a perfect smile.
Quick and Easy Cosmetic Tooth Bonding
All smile makeovers do not have to be large and in-depth. In fact, some of the smallest changes can make the biggest difference in your appearance. Cosmetic tooth bonding, for example, is a non-invasive and speedy cosmetic dentistry treatment that can fix stained, damaged, mishappen, or gapped teeth. It only takes about 30 minutes to transform a tooth. If there is one little element in your smile that has been ruining every selfie and every grin, dental bonding could be your lucky ticket.
Precise Gum Recontouring
There are some elements of your smile that you may assume can never be altered – like your gums. This is untrue. A precise, customized laser gum lift can transform your smile, elongate short teeth, and give you a beautiful, symmetrical smile by permanently removing excess gum tissue. Laser gum recontouring is often used in conjunction with porcelain veneers for an even more impressive smile makeover.
Versatile Porcelain Crowns
Crowns are often thought of as a restorative dentistry procedure because they are typically used in dental bridge procedures and to protect teeth after root canal therapy. Porcelain crowns, however, are powerful all on their own, transforming a tooth that cannot otherwise be whitened or beautified with a lesser cosmetic dentistry procedure. Crowns are customized in size, shape, and color to blend into your smile, cover up an unsightly or deteriorating tooth, and make your smile whole again.
Make your own luck. Contact Manhattan cosmetic dentist Dr. Michael J. Wei to schedule a consultation or submit a Smile Virtual consultation to find out what's possible for your smile makeover and a brand new, lucky you.