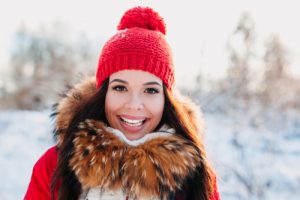 Everyone's smile makeover is different. Even if 10 patients are getting Microthin veneers, they will all have unique variations on the formula, which involves the color, size, shape, length, and translucency of each veneer. One other major detail that varies – how many veneers a patient gets. It's up to you and your NYC dentist to determine what number is right for your new smile.
How Many Microthin Veneers Do I Need?
The number of veneers your dentist recommends for your smile makeover will depend on factors like the condition your teeth are in and how many teeth are visible. Some things to consider:
If you have a narrow smile: Some people want to broaden a smile with dark areas in the corners. Carefully customized veneers, built to the right thickness, width, and length can do that, which means you'll likely need 10 to 12 veneers to make it happen.
If you want the typical treatment: Eight to 10 veneers are common for most patients undergoing this treatment. It's a complete smile makeover that transforms their teeth and covers up everything they dislike aesthetically about their teeth.
If you are considering a small fix: Four veneers is atypical. Getting this many porcelain shields may be enough to make your prominent teeth look better, but the remaining visible teeth won't blend in easily with them, and the smile makeover could be obvious and unflattering.
If you want the full treatment: While many people will get veneers on their upper teeth and invest in teeth whitening on their lower teeth to brighten them up too, some patients opt for 20 veneers – 10 on the top teeth and 10 on the bottom, or 12 on top and eight below. It's a meticulously crafted formula for everyone.
Can I Get Too Many or Too Few Microthin Veneers?
When people have noticeable veneers, it's not usually because they have too many of them, it's because they were not carefully customized to look natural. Fake-looking veneers happen to good people, but not if you work with an experienced dentist who has a mountain of amazing before-and-after photos.
If you're thinking that you want to get fewer veneers because you want to cut costs, step back for a moment and consider the adventure you're about to embark on. You are planning to undergo a major smile makeover using a powerful, life-altering cosmetic dentistry procedure. You want your investment to look natural and be worth your while – attempting to slim down the price of it can sacrifice a beautiful, natural final look.
Your dentist is aware that you have a budget and concerns, and he will carefully review the procedure and its costs before you embark on any changes so you can feel physically and financially good about your smile upgrade. Microthin veneers may not even be the best option for you – there are other cosmetic dentistry treatments that may suit you better, in cost and appearance.
Learn more about Microthin veneers and whether they're right for you. Submit a Smile Virtual consultation to Dr. Michael J. Wei and get a video response in return, or schedule a consultation at his Midtown dental office to discuss the new you. Contact us today to get started.