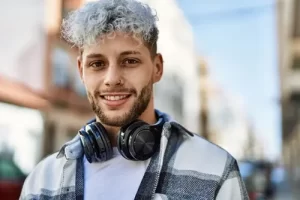 Versatility is the name of the game when it comes to NYC porcelain crowns. This cosmetic dentistry and restorative dentistry procedure transforms smiles by correcting and beautifying a host of problems with adult teeth, leaving a natural-looking repair behind.
1. Stains
Professional teeth whitening works wonders on many peoples' teeth, eliminating stains and discoloration in no time using powerful bleaching products. Some teeth, however, cannot be fixed with whitening, especially those that are gray from antibiotic use, yellow from tobacco use, or brown from poor dental hygiene. You can still cover up what you don't love, and that's thanks to a customized NYC porcelain crown, designed to blend in with the rest of your smile.
2. Decay
Most tooth-colored fillings can easily repair a cavity. Sometimes, though, a cavity is so large that a large amount of enamel must be drilled away to remove the tooth decay. As a result, not enough enamel will remain to support any kind of filling. A NYC porcelain crown, however, can cover the worked on tooth and return it to its normal shape and size.
3. Misshapen Tooth
Not every tooth erupts the way it's supposed to, and not every tooth complements its neighbors for a symmetrical, even smile. When you have a tooth that is interrupting your entire smile and drawing all the attention to itself, a NYC porcelain crown can change it completely. You can transform a short, misshapen, pointy, or otherwise wonky tooth with this customized cosmetic dentistry solution.
4. Damage
When a tooth suffers damage, it needs to be repaired so it can remain durable and not suffer from any bacteria or food particles creeping inside. Fractures in the form of chips, cracks, breaks, or other damage means both structure and appearance are compromised. Intervention is necessary and quite often the strongest repair for any of these problems is a dental crown.
5. Infection
An infected tooth causes serious pain and often results in the need for root canal therapy. If an infection is so deep that it has gone through to the depths of your tooth, your dentist will need to clear out the roots and fill them to avoid the problem from developing again. To offer further protection, a NYC porcelain crown is placed over the entire tooth.
6. Weakness
Many people have the unfortunate reality of living with weak tooth enamel or damaged teeth. Whatever the source of this problem, the result is a greater susceptibility to damage and tooth decay. If you recognize that you're having repeated problems with the same tooth, your dentist may suggest finding a way to toughen it up – and that often happens through a customized porcelain crown.
Do You Need a NYC Porcelain Crown?
It doesn't matter where your problem tooth is located – front tooth, molar, or otherwise. A porcelain crown is customized to fit the space in which it is placed. Smooth, tooth-colored, and personalized to blend right into the rest of your smiles, a crown is discreet and strong, so your smile looks great and functions flawlessly.
Find out if you need a crown for your dental dilemma. Schedule a consultation with Dr. Michael J. Wei at his Midtown dental office or submit a Smile Virtual request online.