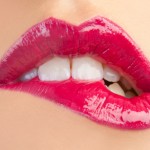 If you've had too many first dates and not enough second dates, or if you're having difficulty scoring those first dates at all, that rejection can really take its toll on your self-esteem. Alas, the truth is this: Your smile is one of the things that could be getting in the way of true love.
We all like to believe that we are loved for who we are, not how we look, but the ultimate reality is that your appearance does affect how someone perceives you. If those first dates are fizzling out as soon as they begin, think about what kind of first impression you're making. You get cleaned up, dressed up, and fix your hair. But what about your smile? If you flash a broken-down grin, what kind of statement does it make about you? And if you don't dare to smile, that speaks volumes as well.
Are You Ready to Pucker Up?
In a recent Crest and Oral B Smile Survey, the smile was ranked as the most important attribute when determining attractiveness. And, let's face it, when you go on a first date with someone, one of the things on both of your minds throughout the night is: Will there be a first kiss?
In a Kelton Research study, 38 percent of people wouldn't go on a second date with someone with crooked teeth – so if you're dealing with something far more intense like stained teeth, missing teeth, or broken teeth, it's probably safe to say that your chances of stealing that first kiss go down considerably.
Your Smile Defines You
Our mouths say a lot about us. If you only smile with your mouth closed, or have a tendency to cover your mouth when speaking or laughing, people may think there's something you're hiding. Body language includes your mouth, and being self-conscious about your unhealthy teeth and gums can truly influence what you say, how you act, and how you respond to other people.
There's a difference between being nervous on a first date and being completely uncomfortable with yourself. You want to feel handsome or beautiful – you don't want to feel defeated by your smile. And if the vibe you're sending is one of I'm-not-comfortable-in-my-own-skin, that can certainly make you unattractive to others. Confidence is appealing – and you can get your mojo back with a smile makeover.
Learn How to Love Your Smile
If your smile is keeping you from finding love, it's time to make some changes. So what's going on with your grin? Have you been plagued by gum disease and decay? There is treatment for this – you don't have to suffer with the pain and embarrassment of an unhealthy mouth.
Do you have missing teeth, chipped teeth, or old dental work that needs revitalization? Porcelain veneers are a popular, natural-looking option that many people turn to today to achieve a stunning new grin. Wishing for a "quick fix" for your smile that is non-invasive? Ask your dentist about Cerinate lumineers. Veneers and lumineers are also smart alternatives for people who would not benefit from professional teeth whitening.
Wish you had listened to your parents and gotten those braces back in junior high? It's not too late. Invisalign allows you to straighten your teeth in "secret" by using clear aligners. Don't believe straight teeth are a must-have? Kelton Research also found that people with straight teeth were perceived to be more successful, have a better social life, and a better personality.
Be Confident in Love and Life
When's the last time you laughed out loud with your mouth wide open? Wouldn't it feel amazing to have the confidence to do that again? Happy people are happy with themselves inside and out, and they're proud of their smile. Don't ever be embarrassed to smile again. Don't ever be ashamed of who you are. A new smile can literally transform your life – love life or otherwise.
It's tough enough to date in today's modern, technologically dependent world. Make your smile the least of your worries. Contact Dr. Michael J. Wei in his Manhattan cosmetic dentistry office to schedule your complimentary smile design consultation and find out what kind of smile makeover awaits you.