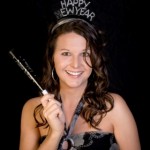 There isn't one person who wouldn't love to look younger, feel better, and have more self-confidence. As a result, New Year's resolutions often include joining a gym or starting a diet. And as we all know, these goals often fall by the wayside after just a few weeks. There is one resolution that can truly reframe your life for a very long time – getting a new smile.
Are You Setting Yourself Up for Failure or Success?
Statistics show that about 80 percent of people who form New Year's resolutions don't even make it to February before giving up. Often it's the effort of getting to a gym and attempting to squeeze in a workout between your job and family time that leads to reneging on this resolution. Eating better and dieting encounter similar setbacks – there just isn't time to maintain the demands. The result? People feel even worse about themselves for failing, for not accomplishing their goals, for doing the same thing over and over again and expecting new results.
However, a smile makeover doesn't require more than a few visits to your cosmetic dentist, and suddenly you're looking better than you ever believed you could. The only resolution necessary here is to make the choice to improve your smile – and act on it.
Smile Solutions, No Matter Your Situation
Some people look at a new year as a time for opportunities. Other people see it as just one more unwanted number added to their age. Whether you're an optimist or a pessimist, the reality is this: A smile makeover can make you look younger, so does it really matter how old you are?
Age is irrelevant when it comes to renewing a smile. You may want to remedy those short teeth that make you feel like a child – porcelain veneers or the less invasive Cerinate lumineers are a dramatic improvement that can give you an even, natural-looking, white smile.
If you fear that your gums aren't healthy enough for cosmetic dentistry, that doesn't mean you're out of luck. Proper gum disease treatment will clean up your mouth and give you the necessary foundation to manage dental implants or porcelain fixed dental bridges. These prosthetics are also ideal if you're dealing with any missing teeth.
Feel like you just want a whiter smile? Professional teeth whitening is a simple, impressive upgrade for your smile that can be completed in just one hour in the dentist's office. Now that is a commitment worth making.
Let a New Smile Inspire You
You may find that a new smile has you feeling so good about your appearance that you are able to find the necessary motivation to do other healthy things for your mind, body, and overall well-being. Hitting the weight room will be easier if you aren't grimacing with a mouthful of stained teeth. Landing that coveted job will be a breeze if you're smiling proudly.
Experts recommend setting specific, measurable goals if you want to actually stick with your resolutions. So the first step is to contact Manhattan Dentistry to set up your consultation and find out what Dr. Michael Wei recommends for your smile makeover. Every person's situation is different, and your smile will be customized to suit your oral health needs and complement your appearance. Give yourself the gift of a brand new you that will last far beyond any gym membership.