Dr. Michael J. Wei is a Cosmetic Dentist in Manhattan New York City who is helping people who have damaged teeth or teeth that are not shaped correctly with getting an attractive new smile with porcelain tooth crowns. Porcelain tooth crowns are a popular dental treatment for people who have teeth that are damaged, chipped or cracked, or a large cavity within their tooth. With today's modern porcelain composite materials, cosmetic dentists like Dr. Wei are now able to repair teeth and improve smiles with a strong and durable material that looks naturally white and can last for decades.
Tooth Crowns Case Example Before and After Photos: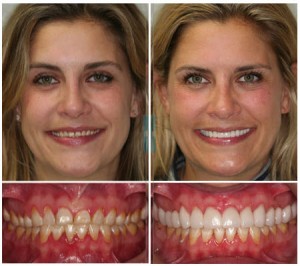 Nicole was going to get married and was concerned that her smile would have a negative impact on her appearance during her wedding day. She was always hesitant to smile because her teeth were short and crooked and had dark stains. She also felt like her smile was uneven and worn-out.
We were able to give her the bright, white, gorgeous smile she always wanted with porcelain tooth crowns. Her brand-new smile increased her self confidence and she is now ready for her big special day! Nicole loves her new smile. It brought back her self confidence and now she wants to do all her bottom teeth too.
Problems:
Gummy Smile
Dark Stained Teeth
Short, Small, Crooked Teeth
Enamel Defects due to Bulimia
Worn-Out Smile
Uneven Smile
Different Sizes of Teeth
Misalignment of Teeth
Bad Bite
Solutions:
Gum Lift
14 Porcelain Crowns
"Porcelain tooth crowns are a durable and natural-looking solution for repairing damaged teeth," stated Dr. Michael J. Wei, a Cosmetic Dentist in Manhattan NYC. "Our patients love porcelain crowns because they look like their natural white tooth material and the end result is a complete smile makeover that makes them want to show off their smiles again."
Dr. Michael J. Wei, DDS – Manhattan NYC Cosmetic Dentist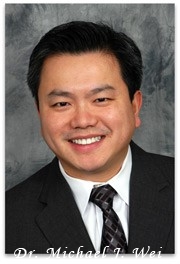 For more information about the cosmetic dentistry and porcelain tooth crowns offered by Dr. Michael J. Wei or to schedule your complimentary consultation, call (212) 982-4080.
Click here for more information about porcelain tooth crowns in Manhattan NYC
https://mymanhattancosmeticdentist.com/services/restorative/porcelain-tooth-crowns/