Dr. Michael J. Wei is a Cosmetic Dentist in Manhattan NYC who is repairing teeth and providing smile makeovers for Manhattan area patients who are embarrassed by their smile because of damaged, chipped or misaligned teeth. Similar to porcelain veneers, "Lumineers" are thin porcelain "shells" that are adhered to the front of your teeth to repair your teeth and enhance your smile. The advantage of Cerinate Lumineers is they are a pain-free non-invasive option to porcelain veneers. They will give you the same fantastic, natural-looking smile by repairing and/or straightening your teeth.
Lumineers Case Example Before and After Photos: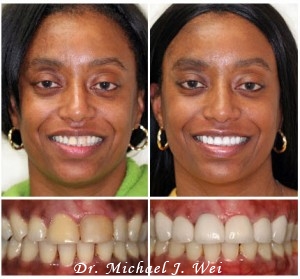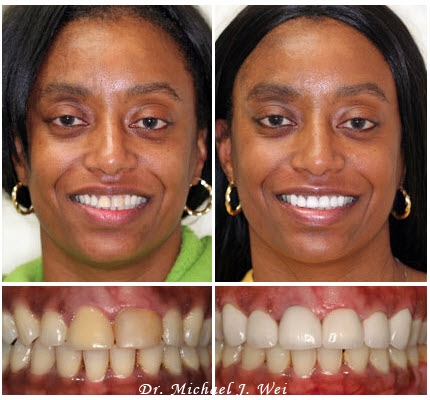 Mary was concerned about the way her smile looked and felt it negatively affected her performance. She had always been hesitant to smile and complained that her two front teeth are discolored, dark, too big and not proportional to her smile. She wanted a more natural, whiter, and brighter smile. By using 5 Lumineers and 1 porcelain tooth crown, we were able to create a healthy and beautiful smile that Mary always wanted. Her brand new smile increased her self confidence in a big way!
Problems:
* Old Dark Tooth Bonding
* Old Discolored Dark Porcelain Tooth Crown
* 2 Oversized Teeth
* Not Proportional Teeth
Solutions:
* 5 Lumineers
* 1 Porcelain Tooth Crown
"Lumineers are a popular cosmetic dentistry procedure used to improve your smile and your overall appearance," stated Dr. Michael J. Wei.  "Our clients like Cerinate Lumineers because they are effective for repairing teeth, straightening teeth without braces and provide them with a fantastic natural-looking new smile." "Patients want a less invasive option and want a pain free smile makeover."
Are you happy with your smile?
Statistics of a survey of American adults found that a person's smile is the first thing people notice about their appearance. Unfortunately, most people are not satisfied with the appearance of their smile:
* Only 50% are satisfied with their smile,
* Over 92% agree that an attractive smile is an important social asset,
* 85% agree that an unattractive smile makes a person less appealing to the people of the opposite sex,
* 74% agree that an unattractive smile can hurt a person's chances of success in their career,
* 88% state they always remember a person with a beautiful smile.
Dr. Michael J. Wei, DDS – Manhattan NYC Cosmetic Dentist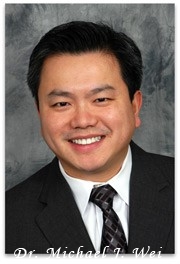 For more information about the cosmetic dentistry and Lumineers offered by Dr. Michael J. Wei or to schedule your complimentary consultation, call (212) 982-4080.
Click here for more information about Lumineers in Manhattan NYC