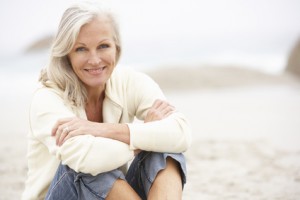 You've always wanted a straight smile and now you're finally ready to get one. So what's the right choice for achieving alignment? No one is limited to traditional metal braces anymore when they want straight teeth. Options like Invisalign and porcelain veneers have changed the playing field. It's only a matter of determining what smile makeover choice is right for you.
The Benefits of Porcelain Veneers
Porcelain veneers are versatile. They are the "quick fix" that will absolutely give you the straight teeth you want, while offering other cosmetic perks too. Veneers are wafer-thin pieces of porcelain that are molded and customized for you and then bonded to the front of your teeth, usually in just two visits to the dentist. Veneers suit your smile perfectly and are designed to complement your natural teeth, skin tone, and the shape of your mouth.
But the best part is just how many imperfections veneers are able to cloak. Teeth stains? Gone. Short teeth? Not anymore. Broken, gapped, or chipped teeth? Veneers will cover it all. Your veneers will be crafted to lengthen and perfect your smile so that it is uniform and aesthetically pleasing. And, of course, your smile will be straight.
In a fraction of the time it will take for your smile to be straightened with Invisalign, veneers can transform your smile. For those who prefer a less-invasive cosmetic dentistry treatment, there are Lumineers, which are an even thinner version of a veneer that preserves original tooth structure. The procedure mimics the stunning and smile-altering effect of the porcelain veneer.
Mind the gap with porcelain veneers and more cosmetic dentistry treatments >>
Why So Many People Love Invisalign
When you just want straight teeth and have no need for any other cosmetic dentistry or restorative dentistry treatments, Invisalign gives you a powerful, structured, under-the-radar way of revamping your smile. If your teeth are so healthy that their only flaw is they aren't completely in alignment, you owe it to yourself to create that amazing smile you've dreamed of.
Invisalign makes it possible for adults to straighten their teeth on the down-low. You can go to work, out on dates, or on vacation without Invisalign interfering with your lifestyle. The aligners work just as powerfully as metal braces, but act differently by moving certain teeth at certain times, hence the need to change aligners about every two weeks throughout the process. Underbites, overbites, crowding, and overlapping can all be corrected with Invisalign.
And, of course, there is no discomfort with Invisalign like there is with metal brackets and wires. Certainly there will be a little pressure as you move from one set of aligners to the next, but this feeling is confirmation that the braces are working as intended. The rest of the time, you can enjoy life as you always had, simply removing the Invisalign to eat your meals and clean your teeth.
5 facts you need to know about Invisalign >>
Make the Right Smile Makeover Choice for You
Both porcelain veneers and Invisalign are viable options for straightening teeth. The results from both treatments will transform your smile and overall appearance tenfold. Only your dentist can help you determine what procedure is best for your smile makeover. When you're ready to do something about the smile that isn't quite perfect, visit Manhattan cosmetic dentist Dr. Michael J. Wei to learn more about your customized smile makeover options and whether Invisalign or porcelain veneers are right for you.