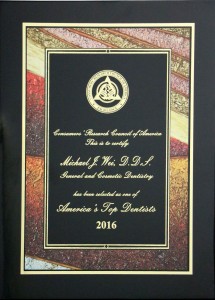 Manhattan cosmetic dentist Dr. Michael J. Wei has been named America's Top Dentist for 2016, an award given to dental professionals who provide outstanding dentistry services to their patients. Bestowed by the Consumers' Research Council of America, this honor marks the 11th time Dr. Wei has been named Top Dentist. Since 2005, he has been lauded for his exemplary service and expertise as a general dentist, restorative dentist, and cosmetic dentist in New York City.
The Consumers' Research Council of America (CRCA) evaluates and compiles lists of the nation's top professionals from various industries using a point-value system that awards points for education, years in practice, and affiliations with professional associations.
A member of the American Academy of Cosmetic Dentistry, the American Dental Association, the New York State Dental Association, and the New York County Dental Society, Dr. Wei opened his first private dental practice in 2002, moving to his current practice location in Midtown Manhattan in 2007. He pursues advanced dental education at every opportunity, having completed training and continuing education at top cosmetic dental institutes including the Las Vegas Institute and The Rosenthal Institute for Aesthetic Dentistry in New York.
This prestigious award recognizes Dr. Wei for the careful work he does every day in his efforts to renew the smile of each and every one of his patients. Dr. Wei is considered one of Manhattan's best dentist, and he is especially known for providing exceptional:
Whatever oral health concern you may be dealing with or question you may have, Dr. Wei makes it his job to learn all about your situation so that he can make the best recommendation for your individual smile. Dr. Wei's goal is to provide naturally beautiful smiles in a safe, pain-free environment while reducing patients' anxiety and stress about dental procedures.

Dr. Wei has served his New York City dental patients for over 15 years. "I believe life is better with a great smile and healthy teeth," he says, "and I am honored to receive the award of America's Top Dentist for 2016. My goal is to provide the best customized dentistry available in Manhattan, and to do so in a space that is comfortable for our patients and innovative in dental technologies and solutions."
Ready to visit America's Top Dentist? Make an appointment with Manhattan cosmetic dentist Dr. Michael J. Wei to learn about what cosmetic, restorative, and general dentistry options are best for your smile.