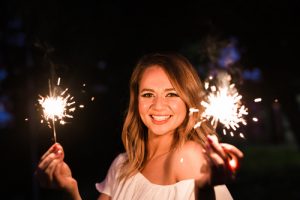 Independence comes in many forms. The freedom to love your smile is one of them. When you are embarrassed by or ashamed of your teeth you can feel limited in your opportunities and held captive by the unsightliness of your smile. If you aren't getting ahead in life because your smile is holding you back, it's time to feel the freedom of loving your smile with the help of cosmetic dentistry.
Start with Healthy Teeth
Unhealthy teeth only lead to more unhealthy teeth. If people have anxiety about dental work, they are less likely to make or keep dental appointments every six months to maintain good oral health. You can brush and floss thoroughly at home, but you can't reach every bit of plaque and build-up on your teeth with your own toothbrush. Without that additional help from a dental hygienist cleaning your teeth and dentist giving you an exam, you're more likely to end up with decay and far worse troubles.
If you are in a place where you have pain, loose teeth, or other oral health issues, these need to be addressed before you can pursue a smile makeover. Restorative dentistry treatments are not only corrective, they look natural and get you to a place where you smile is functionally sound:
Dental implants are the secure, natural-looking way to replace missing teeth or a missing tooth. There will no longer be a hole in your smile, the restoration will be strong, and your jaw health will be stimulated and maintained with an artificial root.
Porcelain tooth crowns can be used independently to repair a damaged tooth, a tooth after root canal therapy, or in conjunction with a dental bridge, serving as anchors to hold the bridge in place.
When you need a filling, or if you want to replace a toxic silver filling, tooth-colored fillings are non-toxic and look white just like your own teeth.
Clean teeth and gums may be all you need to feel good about your smile. Either way, having healthy teeth sets you up as a great candidate for cosmetic dentistry.
Rescue Your Smile with Cosmetic Dentistry
Cosmetic dentistry treatments overhaul your entire smile and eliminate all the worries you have about how your teeth look. For example:
Porcelain veneers correct multiple problems at one time – stains, chips, gaps, crooked teeth. Best of all, the finished look is organic, so people will think you were born with gorgeous teeth.
Cosmetic tooth bonding repairs aesthetic dental complaints in an efficient, non-invasive way. A misshapen, discolored, or broken tooth are all likely to be good candidates for a repair using dental tooth bonding.
Teeth whitening, of course, remains one of the fastest and most popular cosmetic dentistry procedures. There is no competing with professional teeth whitening as powerful bleaching agents are used to break through stains and leave your teeth shades whiter.
Freedom to Be Yourself
If you are hindered from being your true self because you're afraid of being judged because of your teeth, then you're not living a full life. You're always worried about how you look, what others think of you, how you come across. If you are ready to change your smile and truly feel free to live and love the way you've always wanted, make an appointment with Midtown Manhattan cosmetic dentist Dr. Michael J. Wei.