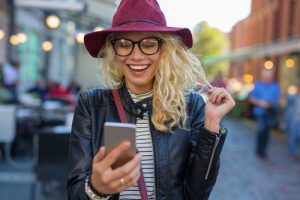 Instagram is the place to be when it comes to social media and, of course, that means photos. Without pics, you can't communicate through this platform. The Instagram Stories are popular and give people a glimpse of what you're up to, but have you shied away from showing yourself too much because you're embarrassed by your smile? Your Insta story might disappear after 24 hours, but you live with those teeth 24/7. Maybe now is the time for your smile makeover.
It's Not Just About the Photos
Let's face it, social media is an environment where people rarely post a bad photo of themselves. They take shot after shot until they get the perfect picture to share with the masses. If you feel like the only good photos are of you with your mouth closed, and you struggle to get an image that's flattering, you need to think about the appearance of your smile.
If your teeth are holding you back from posting an Instagram picture, how might this feature be affecting you offline?
Confidence comes from many places, and people underestimate just how big of a role their oral health plays in positive self-esteem. Being ashamed of stained, crooked, broken, or missing teeth makes you far more likely to stay quiet, avoid drawing attention to yourself, and shy away from anything that puts you in the spotlight.
Staying in the background means you're less likely to make a good impression at work, more likely to be a wallflower in social situations, or even bow out of engagements you know you would enjoy. Don't allow yourself to turn into a hermit because of your smile. If you're proud of your teeth, you'll be proud to live your life on your terms and, as a result, have plenty of awesome photos to post to Instagram.
Get the "Likes" You Want with a Smile Makeover
Instead of struggling to present yourself how you wish you could be instead of showing yourself for who you really are, make a change that will eliminate the effort it takes to conceal your teeth, whether on social media or otherwise.
If your teeth are stained or discolored, teeth whitening can brighten them tenfold. If the stains go deep, porcelain veneers can give you white teeth and cover up any other perfections at the same time. People will think you have a killer filter, when it's the real you.
If your teeth are crooked, porcelain veneers again come to the rescue, aligning your teeth perfectly. There is also Invisalign, which discreetly straightens your teeth and bite so your smile is fully functional and pain-free. Plus, the nearly invisible aligners won't even show up in your Insta photos.
If you have missing teeth and the gaps are noticeable, dental implants take the place of the missing tooth root while also creating a natural-looking solution for teeth that are absent. A dental bridge and porcelain crowns can get the job done too, in a much less invasive way than implants.
The bottom line is this: If you're unhappy with the appearance and health of your smile, there are solutions, and they will all be customized to your unique needs. Contact Manhattan cosmetic dentist Dr. Michael J. Wei to schedule a consultation to discuss your smile makeover. Your Instagram account will thank you.