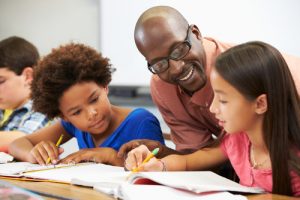 New books, bags, sneakers, jeans, pencils, pens – there are plenty of supplies that students, teachers, and parents need for a fresh school year. Looking beyond the obvious, however, is a sure way to get the fall off to a bright start. A perfect smile is the accessory you didn't even realize you needed, whether you're learning, teaching, or otherwise.
Back-to-School Smile Perfection
The route to a beautiful smile is different for everyone – what's most important is making your oral health a priority so it's smooth sailing for the school year ahead. The smile makeover of your dreams may be simple and quick, while others may require more time to complete their look.
If you're a teacher: You will be standing in front of a classroom all day, interacting with students, talking with fellow instructors and administrators, and meeting with parents. If you think these people are only checking out your clothes, think again. You're being judged from head to toe, especially when you work at a Manhattan school, and having a good smile can turn you into a more-respected educator who looks capable, important, and smart.

Porcelain veneers are a versatile, long-lasting cosmetic dentistry treatment that gives you that flawless smile. You'll command the attention you deserve, feel confident, and look great while doing your job.

If you're a parent: You want to make a good impression on your child's teachers, while also being memorable in a good way to their classmates' parents and school personnel. Plus, parenting can be especially challenging come back-to-school time when you have less time to tend to your own needs but still need to keep up with peers.

Even if your hair, clothes, and makeup aren't right, there will be one accessory that will never fail to shine – a flawless smile. If you've spent years tending to the needs of others, it's time to put yourself first and go after the porcelain crowns or dental tooth bonding needed to restore your smile.

If you're a student: Depending on age and reputation, you are heading back to school with trepidation or excitement. These feelings can be tempered or improved by knowing that there need not be any anxiety where your smile is concerned.

Some teens qualify for Invisalign Teen, which allows them to get a straight smile discreetly – in other words, no taunts of metal mouth or brace face. If you're on your way into a university classroom, you may want a way to stand out rather than blend in – a professional teeth whitening treatment can be all you need.
Be Book Smart About Your Smile
Whatever your demographic or spot in the education food chain, making oral health a priority is essential at every stage of life. Keeping up with dental cleanings and exams every six months at your NYC dentist is the best way to keep your smile looking amazing and healthy.
Shine bright this school year. Start off on the right foot by scheduling an appointment with Dr. Michael J. Wei at his Midtown Manhattan dental office on Madison Avenue.