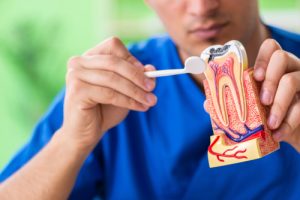 When it comes to learning about new dental innovations or groundbreaking techniques, Dr. Michael J. Wei prioritizes education. This fall he's going back to school again – this time, however, it's as professor and not student. Dr. Wei has been appointed a clinical associate professor at the New York University College of Dentistry in the Department of Full-Mouth Reconstruction.
Ushering in a New Generation of Restorative Dentists
This respected professorial position is an opportunity for Dr. Wei to impart his knowledge of restorative dentistry techniques to the next generation of dentists, teaching them the skills needed to recreate healthy smiles and successfully serve their patients.
The faculty at the NYU College of Dentistry are not only instructors, they care for private patients. This daily, hands-on experience is invaluable when connecting with dental students who want to get a glimpse of what it really means to be a practicing dentist. Students at NYU get the privilege of receiving stellar academic instruction from clinically skilled and talented dental professionals like Dr. Wei.
What Is Full-Mouth Reconstruction?
Reconstructive dental work is done to create a smile that is fully functional and comfortable. Teeth, bite, and jaw are repaired and manipulated to work together properly so a person's smile is structurally sound and healthy.
The full-mouth reconstruction procedures offered by Dr. Wei at his Madison Avenue dental office can include any of the following:
Gum disease treatment. Treating unhealthy teeth begins by treating unhealthy gums.
Dental implant. Used to replace missing teeth and missing tooth roots.
Porcelain crown. Caps unsightly, weak, or compromised teeth.
Fixed dental bridge. Fills a hole in a smile with the help of porcelain crowns.
Root canal therapy. Repairs a severely infected tooth to eliminate pain.
Tooth extractions. Pulling out what is severely infected or beyond repair.
Cavity repair. Eliminating decay and replacing with tooth-colored fillings.
This is not an exhaustive list of restorative dentistry procedures and every patient's full-mouth reconstruction plan is unique. Once these repairs have been made, many full-mouth reconstruction patients choose to expand their smile makeover by undergoing cosmetic dentistry too. By the end of it all, a smile not only works perfectly, it looks flawless too.
It's Never Too Late for a Healthy Smile
One of the most important lessons that dentists-to-be will learn from Dr. Wei and other instructors is the importance of respecting each patient's individual concerns and difficulties. There should be no judgment when it comes to making oral health repairs.
Quite often, patients have trouble with their teeth because they haven't had the means to make their oral health a priority. Other patients have great anxiety about going to the dentist and, as a result, have allowed their oral health to diminish. What's important is using full-mouth reconstruction to improve a patient's oral health and get their mouth back into working order so they can bite, chew, speak, and smile with confidence.
Ready to talk to the professor? Schedule your appointment with Dr. Michael J. Wei at his Midtown Manhattan dental office on Madison Avenue.