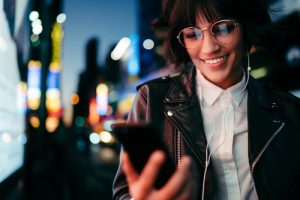 For some people, being a New Yorker is about the ability to blend in, while others are looking for a platform to stand out. There are Manhattanites who revel in the permission to be themselves without judgment. And there are NYC residents who believe that how you look makes all the difference between success and failure, whether socially, professionally, or personally. Whatever category you fit into, there is one element of who you are that works across the board – a perfect smile.
You Want to Blend In
If you want to look like the people who surround you, consider what they have that you don't. Chances are, an excellent smile is a common characteristic. To fit in among peers or colleagues, you want to mimic their traits. Even if a perfect smile wasn't in your original DNA, you can get the same kind of flawless beauty that your associates have (and there is a good chance that they weren't born with perfect teeth either).
You can sink into your own essence with big or small smile makeovers, whether that means teeth whitening and a few porcelain crowns, or dental bonding and tooth-colored fillings.
You Want to Stand Out
Climbing the corporate ladder, proving yourself to fellow socialites, leading the way at your child's school, working to land the big gig? Whatever your personal or career goals, you're not going to go nearly as far as you would like by hiding in the background. Having an imperfect smile can tank your pursuits.
Think about how much more confident you will be about speaking up or smiling wide when you know your teeth look good. You want to stand out for having a beautiful smile, not one that makes people cringe. A perfect smile is not just about appearances, it's about making sure your teeth are healthy. Both cosmetic dentistry and restorative dentistry can get you there.
You Want to Be Your Authentic Self
There is nothing wrong with maintaining your authenticity amid a sea of New Yorkers who are striving to be something they're not. Being authentic, however, does not mean that you must live with a less-than-perfect smile.
Your teeth don't have to be blindingly white like a celeb's, but it certainly doesn't hurt. Your teeth don't have to be perfectly straight, but it will definitely give you a healthier smile. Authenticity has a different definition for every person. Maybe to finally get to your authentic self, you have to remove the barriers – physical or mental – that are in the way, like a broken-down smile. A natural-looking smile makeover can be yours, and you won't be compromising your deepest beliefs by taking care of your teeth.
You Want to Be Perfect
There is nothing wrong with striving for perfection, especially in a place like Manhattan. The perfect partner, career, wardrobe, address – and the perfect smile. People in the know understand that how you look is a critical element of your happiness.
If you are seeking perfection for your teeth, porcelain veneers are one of the easiest ways to get there. No matter what your smile complaint is, veneers can correct any cosmetic issue. From chips to cracks, gaps to misalignment, stains to discoloration, your imperfect teeth can become flawless. Choose from the traditional veneer procedure or find out if you're a candidate for prepless veneers.
Get the perfect smile you want, whatever the motivation behind it. Make an appointment with Midtown Manhattan cosmetic dentist Dr. Michael J. Wei to get started on the new and improved you.