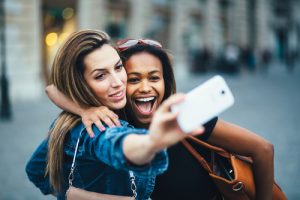 You probably have at least one social media account. You might have two, or three, or more. Whatever way your face is out there for others to see, your smile is front and center too. Are you getting the likes you want, the attention you want? Are you posting a lot because you know you look good or do you stick to memes and non-smiling shots of yourself because you're embarrassed by your teeth? A perfect smile will make your relationship with social media so much better.
Boost Your Instagram Following with a Perfect Smile
Instagram is all about the photo. If you're haunting Insta rather than posting yourself, you're probably a bit of a voyeur, but be honest with yourself – are you shy about how you look too?
People who have great confidence aren't afraid to post photo after photo of themselves. This engagement helps their Instagram audience grow, and it makes others look forward to what they'll be showing off next.
There's nothing wrong with wanting to look good. When you live in New York City, it's all about being unique – but that doesn't mean living with teeth that tank your self-confidence. You get to create your definition of a perfect smile, whether that's gapped teeth that are stunningly white, or a flawless smile made with porcelain veneers.
A Perfect Smile Makes You Facebook Friendly
Some might call Instagram the edgy social media, while Facebook is a demure way to get your message out there. You may only post comments instead of pictures. Maybe you post more photos of your kids and the meals you eat than yourself. That might just be your thing, but how often have you wished you'd feel better about posting photos of you with your kids, or you eating that delicious meal?
If you feel like your Likes are lower than they should be, and you're already self-conscious about your teeth and how they make you look, why torture yourself? A smile makeover – whether big or small – can improve how you see yourself, and if you love yourself, who cares what others think?
Snapchat Is All About the Face
Every Snapchat user has their own style. If you're someone who likes the idea of up-close-and-personal photos or videos and admires other users who do just that, it's time for you to enter the game. Don't sit out because your teeth are in disrepair.
With a perfect smile, you will find yourself posting whenever you feel like it, instead of worrying about whether you're wearing the right lipstick, have the right amount of five o'clock shadow, or are wearing an accessory that distracts from your teeth.
Take Your Perfect Smile from Online to Real Life
If your online life is affected this much by the condition of your teeth, your offline world must be suffering in the same way. Don't let your teeth hold you back from making the connections you want, the impressions you want, and the social life or online presence you want. Schedule an appointment with Dr. Michael J. Wei at his Midtown Manhattan dental office on Madison Avenue to get your perfect smile, that doesn't disappear in 24 hours.