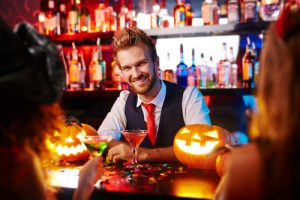 Some people plan all year for Halloween, prepping their costume and accessories carefully so they're ready for every event of the season. Other people wait until the last minute to throw together a spooky, sweet, or sultry getup. If you fall into the latter category, or shun costumes in general, it's probably safe to say you're in need of a speedy smile makeover too, even if you're only going for the candy and drinks.
Enjoy a Perfect Smile on Halloween
If you're planning to sport fangs as part of your costume because you feel like you need a way to cover up the disaster that is your teeth, there are quick fixes to improve your smile. You can get your teeth Halloween-ready for a haunting good time in New York City with:
Teeth whitening: One of the most reliable and effective smile makeover procedures, professional teeth whitening will get your teeth in glowing good shape before All Hallows' Eve arrives. Spend about an hour getting teeth whitening in the office of your Manhattan cosmetic dentist and you will walk away with a grin that is blindingly white and gorgeous.

Many people attempt whitening on their own, but DIY whitening from over-the-counter products are unlikely to produce the awe-inspiring results you envision. Rely on professional-grade bleaching for effective, long-lasting white teeth. Even if your teeth aren't perfect otherwise, the fact that they're bright and clean will make them look just right for Halloween and beyond.
Cosmetic tooth bonding: An easily overlooked repair for unsightly teeth, cosmetic tooth bonding is one of the most effective and efficient ways to upgrade your smile. The procedure is affordable, non-invasive, painless, and fast – it only takes about 30 minutes to an hour per tooth for repairs and brightening.

Whether your teeth are jagged, discolored, chipped, or otherwise, tooth bonding can often be an effective solution, taking the place of a porcelain crown or even teeth whitening. If you have just one or two problem teeth, consider cosmetic tooth bonding
A Halloween Smile Makeover and Everything After
If your funky teeth are an essential part of your Halloween ensemble, you will no doubt work them successfully. When the holiday is over, however, consider the many benefits of an improved smile. Not only will you look amazing for next year, but you'll be stunning every day in between. No more hiding your smile for selfies or special events. Smile big like a Jack o' lantern every day.
Do your dental problems run deeper than surface imperfections? You'll want to talk smile makeovers in more detail with your Manhattan cosmetic dentist. Restorative dentistry may be necessary first to rebuild your smile and solidify the foundation. Once everything is in working order and healthy, it'll be time to spruce up your curb appeal with versatile procedures like porcelain veneers.
Schedule an appointment with Dr. Michael J. Wei at his Midtown Manhattan dental office on Madison Avenue to get the smile that's perfect for you. Until then, happy haunting!