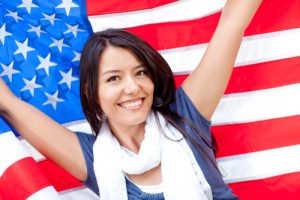 The midterm election is over, but you and your New York City cosmetic dentist can work together in a bipartisan effort to create the perfect smile. Every dental procedure is appropriate for every party, whether you're Democrat, Republican, Independent, Libertarian, or otherwise. A perfect smile transcends the political, because your teeth are one thing that you can absolutely fix, and the only vote that matters is your own.
Take a Liberal Approach to a Perfect Smile
You want a new smile and you are ready to take every measure to get there. If you're seeking a liberal overhaul, if you're ready to be out with the old and in with the new, your smile makeover menu is full of opportunities.
Porcelain veneers, prepless veneers, or Lumineers are some of the most popular ways to correct multiple smile problems. Chips, cracks, discoloration, gaps, misalignment – these complaints can all be fixed or concealed at the same time with some form of porcelain veneers.
Your smile will look natural and work the way it should. You can improve what you have without rocking the boat. Big change can be a good thing, especially when it comes to your smile.
Be Conservative with Your Smile Makeover
Only looking to tweak the smile you have? Looking to repair just a tooth or two? A conservative approach to your smile makeover works for many people.
If you're plagued by that chipped tooth you've had for years, cosmetic tooth bonding, a porcelain veneer, or a porcelain tooth crown can repair it. Tired of being ashamed of your stained teeth? Professional teeth whitening renews your smile in just about an hour. That's a quick way to fix what's not right.
Undoubtedly, your desire to stay under the radar with your smile corrections is important, so you'll be happy to know that any changes you make will be subtle and natural-looking. You get the complete smile you want without any of the fuss.
Create a Truly Bipartisan New Smile
Need a little bit of everything to make your smile work? A mixture of restorative dentistry and cosmetic dentistry can give you a healthy, fully functional, perfect smile.
Sometimes you need to fill in the missing pieces – dental implants do that, giving you a new tooth root and stimulating your jaw so your face retains its natural shape and works the way it should. Sometimes you need to add a little shine, and that's where cosmetic enhancements like bonding or whitening are called upon to do their duty.
Whatever route you take to smile success, no matter your political ideologies, align yourself with lauded Manhattan cosmetic dentist Dr. Michael J. Wei. Make an appointment with Dr. Wei at his Midtown office on Madison Avenue. He doesn't care what your political leanings are, but he does care about your smile, and giving you the perfect smile for everyday peace and happiness.