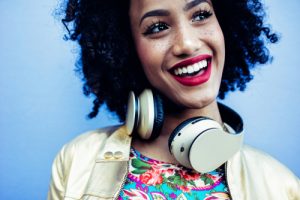 If you're reinventing your smile, you want to make sure the work you're having done is worth your while and worth the investment. The most popular cosmetic dentistry procedures remain popular because they're long-lasting, effective, and offer maximum, immediate impact.
Professional Teeth Whitening
One hour, one cosmetic dentistry treatment, one amazing smile. Professional teeth whitening is an excellent use of your time and resources when it comes to reinventing your smile. There are many types of in-office whitening treatments to choose from, including:
Rembrandt Sapphire Teeth Whitening: Take teeth from dingy to dazzling with this formula, ideal for patients with super-sensitive teeth and gums.
Opalescence Boost Whitening from Ultradent: A powerful bleaching gel, no light necessary.
KöR Whitening: High-potency whitening gel that can sometimes make a dent in tetracycline stains, no lights or lasers needed.
ZOOM! Whitening: Eight times whiter in about an hour, this laser-whitening treatment includes desensitizing gel to protect gums from irritation.
After an examination and discussion with your Midtown dentist, you'll know what method is best for the condition your teeth are in now and where you want them to be.
Cosmetic Tooth Bonding
Patients who want to tweak their smile but don't want to get involved in a major overhaul opt for cosmetic tooth bonding. This simple but effective treatment is the fastest way to repair damaged teeth. It only takes about 30 minutes to correct a tooth, and the procedure restores form and function, so your smile looks great and works properly.
A jagged, broken, or misshapen tooth can be built up so it blends with your other teeth – even gapped teeth can get a boost from cosmetic bonding. This non-invasive, affordable cosmetic dentistry procedure can sometimes take the place of a porcelain crown, saving you money and helping you avoid the dental drill.
Porcelain Veneers
If you have teeth that won't respond to the bleach in teeth whitening, or you have multiple complaints about the appearance of your teeth, porcelain veneers hide the worst and create the best.
Veneers are responsible for incredible smile makeovers, especially when they're done by an experienced Manhattan cosmetic dentist. Customized to each patient in shape, size, color, and translucency, veneers are incredibly durable and last for decades with basic dental care. They're even stain resistant.
You can correct nearly every smile complaint with prepless veneers, and they only require the most minimal preparation so you don't have to worry about losing tooth enamel. The result, however, is always an amazing new smile that is natural-looking, flattering, and complements your skin tone, face shape, and even your age and gender.
Get Your Cosmetic Dentistry at Your Manhattan Dentist
When you're ready to make a change to your smile and your oral health is excellent, cosmetic upgrades are the ticket to a smile makeover and a refreshed, younger-looking appearance. When working with Midtown dentist Dr. Michael J. Wei, even the most anxious patients appreciate the creature comforts of his procedure rooms, including flat-screen television and noise-reduce Bose headphones.
Schedule an appointment at Dr. Wei's Midtown Manhattan dental office on Madison Avenue to learn more about cosmetic dentistry and what procedures are right for your perfect smile.