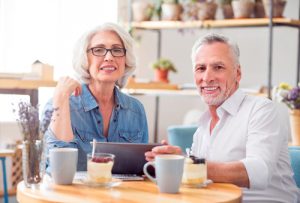 Full-mouth reconstruction is all about rehabilitating the teeth and gums so they are strong, beautiful, and ready for eating, speaking, and smiling. Full-mouth reconstruction elevates the function of your smile and its appearance by repairing and replacing many teeth.
1. You need a healthy mouth before reconstruction can begin.
Quite often, peoples' smiles fall apart because their oral health has been neglected. If gum disease has set in, this problem must be addressed first before any other restorations can get underway. Through scaling, root planing, and other in-depth cleaning methods, your NYC dentist will get periodontal disease under control so it can no longer rule the health of your mouth.
2. The focus is on restorative dentistry.
If you are suffering from gum disease, you may be experiencing a variety of problems, from decayed teeth, to abscesses and other infections, to loose and lost teeth. These complications could warrant dental restorations like:
Tooth-colored fillings
Root canal therapy
Porcelain crowns
Dental implants
Fixed dental bridges
Dentures
Inlays and onlays
Tooth extractions
Neuromuscular treatments are also an important part of reconstruction. The teeth, bite, and jaw must all work together seamlessly, so you have a structurally sound smile that moves comfortably and works properly.
3. Cosmetic dentistry plays an important role too.
Once the foundation of your smile has been reestablished, it's time to pretty things up a little. Restorative dentistry procedures have the wonderful side effect of being tooth-colored and natural-looking. Along with supporting your smile strength-wise, they also beautify it.
While it isn't necessary to get cosmetic dentistry as part of full-mouth reconstruction, it sure is a nice complement to your now-durable smile. A healthy smile can get a major upgrade in appearance from porcelain veneers, Cerinate Lumineers, teeth whitening, or tooth bonding.
4. Every reconstruction is customized.
Whether you need one procedure or a dozen procedures, your full-mouth reconstruction is customized to you alone. There is a formula that will work for your oral health needs, and your Midtown restorative dentist will determine the order in which your reconstruction will proceed.
No matter what your full-mouth restoration looks like, a comprehensive treatment plan will revitalize your oral health using innovative technology and modern dentistry.
5. You can call a full-mouth reconstruction your smile makeover.
Smile makeovers have one definition – to give you a beautiful, healthy smile. When it comes to full-mouth reconstruction, the smile makeover may be more lengthy, invasive, and long-lasting, but the result will always be the same: beautiful, strong teeth and gums.
If you are living with a combination of broken teeth, missing teeth, loose teeth, bleeding gums, mouth pain and soreness, or chronic jaw pain, full-mouth reconstruction may be recommended. If you are having difficulty eating, if your speech has been altered, if you are embarrassed and self-conscious about your teeth, it's time to find out what solutions will give you a healthy smile.
Even if you haven't been to the dentist for a long time, don't hesitate now. Your oral health problems will only intensify and require more attention in the future. Fix what you can now to restore your teeth and gums and get on the road to a healthy smile you love.
Schedule your appointment with Midtown restorative dentist, Dr. Michael J. Wei at his Madison Avenue dental office to discuss full-mouth reconstruction.