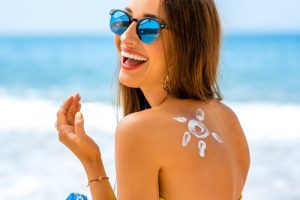 Many Manhattanites wait for January 1 to reinvent themselves, but there are just as many people who are willing to embrace their new self any time of year. If you're seeking a good excuse to remake yourself before the hot weather hits, find out more about a customized smile makeover from your Midtown cosmetic dentist and learn why summer is just the right time for a new smile.
Warm Up Your Smile with a Smile Makeover
Summer calls for the big reveal – shorts and tank tops, hair up and sandals on. This is the time of year when concealing the parts of you that you don't necessarily love is a tricky endeavor. If you feel like you're trying to hide your smile all year long though, you need an upgrade, and there is no better time than the present to make it happen.
Even though you're hot and sweating, you want to look good. A gorgeous, white smile will help you achieve that ideal image, whether you're heading to a professional gathering, private event, or one-on-one encounter. Your best accessory is your smile. If your teeth don't flatter you, it doesn't matter what designer label you're wearing – your cred will drop a few notches.
Shine like the sun with a smile makeover that includes:
Porcelain veneers: If you really want to look like the VIP that you are – or deserve to be –porcelain veneers will give you that perfect smile. Every flaw will be covered up by customized, super-thin veneers that will give you natural-looking, flawless teeth.
Porcelain crowns: Crowns do more than just cover a tooth that's had root canal therapy. If you have a tooth or two that you think are gross and marring your smile, a crown will cover it right up. Personalized to match your existing tooth enamel, a crown conceals the worst and restores your smile to good working order and beauty.
Cosmetic tooth bonding: With cosmetic tooth bonding you can repair that one tooth that has always marred your smile. Whether broken, misshapen, gapped, or discolored, tooth bonding is one of the fastest ways to repair a damaged tooth. It only takes about 30 minutes in your Midtown dentist's office to complete the procedure.
Teeth whitening: A teeth-whitening treatment will always be a top smile makeover choice for people who are in a hurry. In about an hour at your cosmetic dentist's office, your teeth can be elevated to beautifully white. Even if you have some flaws in your teeth, a whitening treatment will make your smile look perfect, and show everyone that you have it together.
Enjoy a Perfect Smile All Year Long
Every season is the right season to get a smile makeover. Upgrading your smile in the summer lets you enjoy the time of year and all the fun that comes with it with a big grin on your face. Then, you'll head into chilly fall, with your smile still shining out between your scarf and hat. It's always a good time to make yourself look and feel better about yourself. Start now. Make this a summer to remember.
Schedule your appointment with Midtown cosmetic dentist, Dr. Michael J. Wei at his Madison Avenue dental office to talk about the summer smile makeover that's right for you.