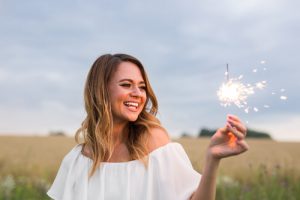 Independence Day is an excellent time of year to shake things up and pursue some self-improvements. If you change your smile with cosmetic dentistry, you'll add that much-needed spark to every area of your life. Who says fireworks are only for the Fourth of July?
Smile Makeovers That Make the Biggest Bang
If you are ready to embrace change and recognize that your smile needs a major overhaul, these are the smile makeovers that will make the biggest impact:
Porcelain veneers: If all your dental issues are cosmetic issues, porcelain veneers can fix everything. Chips, cracks, stains, gaps, misalignment – it all goes away with the careful customization and placement of porcelain veneers in Midtown.
Full-mouth reconstruction: When your oral health has failed you, it's time for a serious intervention in all ways. The combination of cosmetic dentistry, restorative dentistry, and neuromuscular treatments give you a smile that's clean, healthy, works well, and looks amazing. Full-mouth reconstruction is a commitment, but it's worth it to have a beautiful, pain-free smile.
It's Your Turn to Sparkle
Sparklers are brilliant while they're lit, but they fizzle out quickly. A smile makeover will shine bright – and never stop. Here are some of the best ways to light up your teeth:
Teeth whitening: A professional whitening treatment uses powerful bleach and light lasers to transform your smile from dull and discolored to white and gleaming.
Cosmetic tooth bonding: Quick, effective, and non-invasive, cosmetic tooth bonding is the best way to correct a damaged. Make this fast fix now and you'll prevent other problems from developing.
Porcelain crowns: One unsightly tooth in an otherwise beautiful smile can drive you crazy. There is no need to live with an off-color, damaged, short, or oddly shaped tooth. A porcelain crown that is carefully customized to match the rest of your tooth enamel will help that one wonky tooth blend right in.
Commit to Good Oral Health
Oral health problems – both cosmetic and functional – usually occur because of user error. Maybe you've been lax about taking care of your teeth or getting regular check-ups and professional teeth cleanings. Perhaps you have dental anxiety and that has made you drag your feet about getting a tooth tended to or having a pain addressed.
Sometimes, however, people are simply born with teeth that don't do them any favors. They have weak enamel or short teeth or a tooth that's missing. You don't have to live with a smile that doesn't make you happy.
You get to choose what kind of smile you have, and you get to choose the Manhattan cosmetic dentist to create it. Schedule your appointment with Dr. Michael J. Wei to learn more about how you can create fireworks with a brand new, flawless smile makeover.