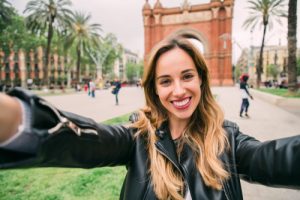 It doesn't matter if you're driving a few hours away or going international, when it's time to travel, you want to look your best. Get a smile makeover and feel confident about unpacking your smile at every opportunity.
Traveling for Business
If you're getting in a car, plane, or train to reach a business-related destination, your visit must be important, and it definitely involves face-to-face interactions. You might be prepared to have a meeting, give a presentation, deliver a lecture, or close a sale, but do you look the part so you can succeed in your task?
A business suit and heels, a power suit and tie – they will only get you so far, and whatever materials you pass our or information you present will only get eyeballs if people aren't distracted by your teeth. If they are distracted by your teeth, it better be for a good reason.
When you're living with stained, crooked, or unsightly teeth, they can get in the way of professional success. Prepless veneers are a sure route to a powerful smile makeover. These super-thin porcelain shields are customized to flatter your appearance – your perfect teeth will be flawless in size, shape, and color. Say hello to your travel destination – and success – with a gorgeous smile.
Traveling for Pleasure
Getting on the road or hitting the friendly skies to take a much-needed vacation? No doubt you're ready to leave all your worries behind. If one of your regular concerns is your unattractive teeth, however, you'll be taking those along with you. Every selfie, every encounter, every memory of your trip can easily be tainted by bad teeth.
Even if you don't have a lot of time to get a smile makeover before you say sayonara, there are small cosmetic dentistry treatments that can improve your entire appearance. A professional teeth-whitening treatment can spruce up your smile in about an hour. Cosmetic tooth bonding can correct pesky chips or misshapen teeth in one visit to your Midtown dentist.
There is always a way to make your smile look better, even if you're on a budget or pressed for time. All you have to do is make an appointment with your dentist and find out what's right for you.
Don't Forget to Brush
Whatever type of travel you're doing, even if you're the recipient of a new smile makeover, don't forget to take care of your teeth every day. Even if you don't have time to stop for a meal or you're barely squeezing in enough rest every night, the one thing you don't want to skip is your oral health routine. Tempted to ditch the floss for however long you're gone? Don't make that mistake (plus, not cleaning between your teeth means stuck food hanging around, and that means bad breath).
Twice-daily brushing and once-daily flossing (at least) will keep your teeth looking good, clean, and healthy. Seeing your dentist twice a year for a professional teeth cleaning and check-up will also help you maintain great teeth and gums. These visits are also an opportunity to talk about how to boost your smile.
Schedule an appointment with Dr. Michael J. Wei at his Madison Avenue office in Midtown Manhattan to get the scoop on smile makeovers.