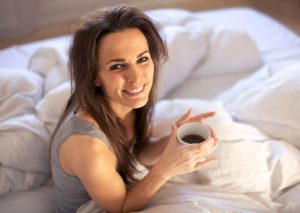 You can have bed head and sheet marks on your cheeks, but if your teeth look good, you'll look good. You can be dressed to the nines for a night out, but if your teeth are unsightly, you won't look pulled together. If you want to look amazing at any hour, porcelain veneers are a shining constant in your day.
When Your Lipstick Fades
If a red lip, berry stain, or shining gloss is always part of your makeup arsenal, being caught "naked" can make you feel vulnerable. That luscious lip color is part of your uniform, your identity, your concealment of teeth that perhaps aren't as perfect as they could be. When you have porcelain veneers, you never have to worry about your lipstick fading away – when it does, there will still be gorgeous teeth left behind.
When Your Clothes Aren't Right
You just got off the plane and your suit is wrinkled. You spilled coffee on your shirt. You're dressed down when you should be dressed up. When your attire doesn't match the moment, you may feel like you simply can't compensate for the social or professional faux pas. Your teeth, however, will always be adequately attired. When you have a white, flawless, gorgeous smile, you can make just about any situation work out.
When You Make an Impromptu First Impression
You're running late for an important meeting with a new client. You run into a new school administrator during school drop-off on a chaotic morning. You simply didn't have time to pull yourself together before you went out the front door. No matter – flawless, white teeth pick up the slack for whatever boxes you couldn't check.
When You Get Caught in the Rain
It happens. Especially in Manhattan. If you're not prepared for precipitation, the rain can ruin whatever hair, makeup, and clothes you're sporting. The last thing you want is to be drenched in on the sidewalk or soggy on the metro, but even if you're looking like you just stepped out of the shower – and not in a good way – a smile will brighten you up and let others see that you're still smiling through the deluge. Plus, smiling might even make you feel better about your uncomfortable predicament.
When It's Time for a Smile Makeover
If you have any self-consciousness about your teeth, that's a sure sign that something needs to change. You deserve to have a smile that you're proud to reveal. Not every moment is serious. Not every charge down a Midtown sidewalk must be so straight-faced.
A stunning smile made with porcelain veneers helps you look your very best, no matter the situation. Your teeth are the focal point of your face, so even if the stuff around it isn't at 100%, your smile can be. Talk to Dr. Michael J. Wei, Midtown Manhattan cosmetic dentist, about whether veneers are right for you. Schedule a consultation today.