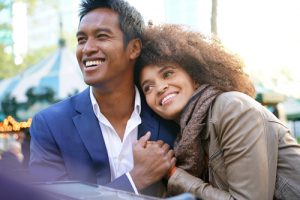 Everyone is born with their own unique set of teeth. That doesn't mean, however, that you must love or live with the teeth that you've been given. You can change the smile you have with cosmetic dentistry. Find out what treatment is the right one to give you a smile you can be thankful for, every day of your life.
1. Prepless Veneers
Veneers without the prep? Yes, please! Some people have long wanted veneers, but they've been reluctant to say yes to a treatment that altered the shape and appearance of their natural teeth underneath. Prepless veneers are non-invasive and require little more than a cleaning and light sanding of tooth enamel to make room for the bonding procedure.
2. Microthin Veneers
Veneers just keep getting better and better. Now, Dr. Wei is certified to create smile makeovers using Microthin veneers. This innovation involves super-thin veneers that fit seamlessly over the teeth without the need for enamel removal. This treatment is especially ideal for patients who want to broaden a narrow smile.
3. Teeth Whitening
Professional teeth whitening has always been amazing. This transformative cosmetic dentistry treatment makes teeth multiple shades whiter in just about an hour. Even if your teeth are crooked or gapped or otherwise imperfect, a teeth-whitening makes your smile – and you – look clean and healthy.
4. Cosmetic Tooth Bonding
An easily overlooked and often underestimated option, cosmetic tooth bonding is an aesthetic upgrade that only takes about 30 minutes per tooth to complete. Maybe you've lived with one or two unsightly or problem teeth and you're tired of them – you don't need a large-scale smile makeover to change your look. Bonding is meticulously done to reshape and brighten a tooth so it blends in with the rest of your smile.
5. Laser Gum Recontouring
You can say goodbye to your gummy smile in just one visit to your Midtown dentist thanks to laser gum recontouring. This sophisticated equipment trims, shapes, and recontours gum tissue to reveal more tooth enamel and eliminate excess gum tissue. A laser gum treatment can be a standalone procedure or done in conjunction with another cosmetic dentistry procedure, like veneers, for an impressive smile transformation.
6. Smile Design
OK, so it's technically not a smile makeover procedure, but digital smile design does let you see what your new smile will look like before you undergo any dental work. That's an innovation worth celebrating! Smile design is especially great when you're trying to decide between multiple treatments – you get to see yourself with a new smile before you say go and trust that you have made the right smile makeover decision for yourself.
Ready to talk teeth? Schedule your appointment with NYC cosmetic dentist Dr. Michael J. Wei at his dental office on Madison Avenue in Manhattan. You'll be thankful you did.