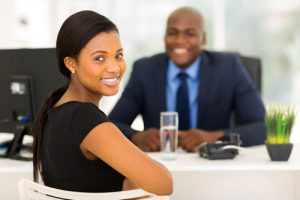 Putting a photo on your resume or cover letter is not the norm in the United States (unless, of course, you have the kind of job that requires head shots, and so many people in NYC do). After all, your ability to do good work technically has nothing to do with your appearance – and, yet, it does. So, what does your smile say about you? Will your teeth help or hurt your chances of landing an interview, or do you need to upgrade to a perfect smile?
Is Your Smile Prepared for Your Job Application?
Cover letters are an incredibly important element of a job application. A hiring manager can tell in a paragraph or two whether you write well, understand the job you're applying for, and if there is any promise to your application.
Should you appear as a competent and qualified applicant, they will also weigh your resume. That's not the end of their consideration though. Up next: internet research. Before you even get your foot in the door of an establishment or organization for an interview, the hiring team will be doing their homework about you, surfing social media looking for a glimpse of who you are.
Where does your face reside online? Do you have Twitter, Instagram, Facebook, Snapchat, and LinkedIn accounts? If someone is looking at your online presence to see if you really have the chops to be a successful employee, they'll also be getting a good look at your appearance. How does your smile fare on social media and beyond? Are you always serious, mouth closed, hiding your teeth? Your potential hiring manager could pause and wonder where your smiles are and if you're concealing something behind that closed mouth.
Get a Perfect Smile Before the Interview
If you're unhappy with the appearance of your smile, you have time to make a change before that job interview. You can get a quick smile makeover and achieve a perfect smile. Here are just some of the cosmetic dentistry treatments that will make you job-ready:
Laser gum lift: Tired of your gummy smile? Hate feeling self-conscious about that excessive gingival display? A laser gum lift can eliminate and reshape your gums to reveal more tooth enamel and create a more uniform and flattering smile.
Cosmetic tooth bonding: Have a wonky tooth or two? A jagged tooth? An unsightly tooth? It only takes your New York City dentist 30 to 60 minutes to address an aesthetic tooth problem with cosmetic tooth bonding.
Teeth whitening: It's always been popular and it will remain popular – professional teeth whitening makes teeth multiple shades whiter in just about an hour. Even if your teeth are flawed, whitening creates the illusion of a perfect smile.
Make your teeth part of your resume, even if they're not represented on paper. Schedule your appointment with NYC cosmetic dentist Dr. Michael J. Wei at his dental office on Madison Avenue in Manhattan to talk about the best cosmetic dentistry treatments to give you your perfect smile – and you'll be well on your way to finding your perfect job.