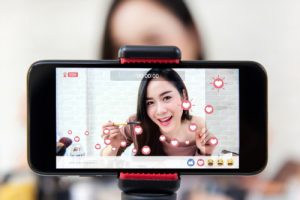 Whether becoming a social media influencer is a career goal or merely a hobby, you'll get more likes, views, and followers when you look your best. While Twitter demands wittiness, Instagram and YouTube require good looks. Make your finest self happen with a customized smile makeover.
Identify Your Ideal Smile Makeover
If you're a busy influencer and you're mulling over the idea of a smile makeover, you may not want to take the time to set an appointment in the office just yet. Thanks to Smile Virtual, you can get answers to your smile upgrade questions without interrupting your schedule.
To use Smile Virtual, all you do is upload a smile selfie, submit it and a form online, and wait a day or two to receive a personalized video identifying all the possible cosmetic dentistry and restorative dentistry procedures you can undergo. You might get recommendations like:
Porcelain veneers: If you have multiple things about the appearance of your smile that you dislike and want to change all in one procedure.
Teeth whitening: If you have relatively good-looking teeth but they could really use some brightening up.
Cosmetic tooth bonding: If you have small problems with your teeth, like chips or discoloration, and just need easy, fast repairs.
Invisalign: If you have crooked teeth that need alignment and you want to straighten them for good without using veneers.
Porcelain crowns: If you have one or two problem teeth that are wonky or misshapen and you want to cover it up with a tooth-colored solution.
There is no one-size-fits-all smile makeover. Whether you see your New York City dentist in person or begin your smile makeover journey online, the result will be the same: a thoughtful examination of your oral health, smile goals, and lifestyle, so you end up with a flawless set of teeth.
Influence Others with Your Smile Makeover Journey
Some people want to get a smile makeover quietly, and suddenly appear more attractive on their social media. If your followers really know you well, however, they will recognize that there's something different about you in your close-ups and videos. Where did those straight teeth suddenly come from? How did your teeth get so white and perfect? Why did you fail to mention one word about the changes to your appearance?
Think about how much your influencer status will climb if you really commit to an authentic relationship with your audience and allow them to follow you on your #smilemakeoverjourney. If they want to see the real you, let them.
Post before photos, during photos, after photos. Talk about your nerves and excitement. Ask the dental assistant to take a quick pic of you while you're in the chair, or even a brief video. If you're getting porcelain veneers, detail the appointment that involved selecting just the right shade of white for your veneers. Take a photo with your awesome Midtown cosmetic dentist. There are so many ways to promote yourself and your smile makeover – you could have weeks or months of content to keep your followers intrigued and wanting more.
Ready to be a truly unique social media influencer? Schedule your smile makeover appointment at Dr. Michael J. Wei's Madison Avenue dental office in Midtown Manhattan. Get on the road to online domination.