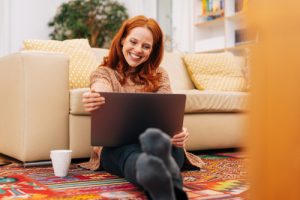 You must stay at home right now whether you like it or not. No one is immune to the coronavirus. Quarantine will never be fully welcomed as the new normal, but one thing that won't change is your dream for what you can do for yourself one day when everything settles down. That includes editing and upgrading your smile. So, while you wait for freedom, indulge yourself with a virtual smile consult and settle into the planning stages for your smile makeover.
Self-Improvement for the Sake of Selfies
You are probably looking at yourself on a screen a lot these days. Whether you're having a Zoom meeting or sending selfies or posting on Instagram, your face is front and center. Even though you may feel daunted by your kids' home schooling or anxious about the conditions of the world, there will be plenty of opportunities to smile. How do your teeth look when you grin?
If your teeth are stained and discolored, you may want to know if teeth whitening can work for you. If you have a few misshapen teeth, you may wonder if porcelain crowns can help or if you need a different dental restoration. If you have a lot of aesthetic complaints, could porcelain veneers be your smile makeover solution? A virtual smile consult will answer all of these questions and more.
Virtual Smile Consultations Are Easy
Your dental needs don't have to wait, even in these hard times. You can get all your smile makeover questions answers – for free – in three easy steps in a virtual smile consultation:
Submit: Upload a photo of yourself smiling or that highlights an area of concern. Ask any questions you have and discuss what dental treatments interest you.
Receive: Wait a few days and receive a personalized consultation video from your New York City dentist directly addressing your concerns and making recommendations.
Act: View your video, think about your options, and contact our office to schedule an appointment.
You may not be able to get your smile makeover immediately because of health concerns or government restrictions, but you can get your name on the books and give yourself something to look forward – a brand new you.
You Have Time to Take Care of Yourself
When you can't see your dentist in person, it helps to know that you can talk with someone about your dental concerns and dental needs. A virtual consultation is your ticket to personalized, one-on-one contact, merely separated by a few days of communication time.
Dr. Michael J. Wei knows how important a good smile is to your self-confidence and self-worth. At his cosmetic dentistry practice in Midtown, the critical work continues to help patients become the best version of themselves – at least smile-wise.
Take a few minutes to help yourself. You're online anyway, you're looking at yourself in your chats and selfies, you're thinking about how your smile could be better – get a head start on your smile makeover with a virtual smile consultation with Dr. Wei.