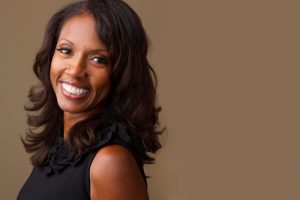 Most cosmetic dentistry treatments are powerful all on their own. They transform a person's appearance and reboot self-confidence. Combine two cosmetic dentistry treatments together, however, and you can have a beautiful, flawless, megawatt smile makeover like no other.
Here are some of the most powerful cosmetic dentistry duos.
Laser Gum Recontouring and Porcelain Veneers
There are many potential reasons for a gummy smile:
Poorly erupted adult teeth remain covered by gum tissue and look short
A short upper lip or a lip that lifts too high when smiling, showing more gum tissue
Overgrown upper jaw, which causes bulging gums
Many people think they have to live with the gums and teeth they were given, but there is always a way to aesthetically alter your smile. Laser gum recontouring is a minimally invasive procedure that precisely trims away excess gum tissue to reshape the gum line and reveal more tooth enamel. The results are immediate and dramatic – and they are enhanced even more when combined with porcelain veneers.
Whether you opt for Lumineers, Microthin veneers, prepless veneers, or traditional veneers, this treatment is customized to every patient. The goal is to create a perfect smile that is straight, white, and symmetrical. Combining personalized veneers with freshly lasered gums creates a stunning, flawless smile makeover.
Invisalign and Teeth Whitening
Invisalign is a customized orthodontic alternative that allows people to straighten their teeth discreetly and in about half the time it takes to straighten teeth using conventional metal braces. The nearly invisible aligners are worn 20 to 22 hours a day, only removed for meals and cleaning, and move teeth a few at a time until they are in perfect alignment.
While teeth don't need to be perfectly straight to benefit from teeth whitening, teeth that are newly straightened thanks to Invisalign and then whitened are a truly stunning set of teeth to behold. Many Invisalign patients opt for professional teeth whitening after Invisalign treatment is done for a complete smile makeover.
Cosmetic Tooth Bonding and Tooth-Colored Fillings
Smile makeovers don't have to be large or costly to be seriously impactful. If you've been living with a marred smile, the things you don't like can often be repaired with small solutions. For example, do you have silver fillings? These toxic and unsightly restorations can be replaced with tooth-colored fillings that are safer and healthier for teeth and that blend with tooth enamel to look natural.
Tooth-colored fillings can also be used to correct other small imperfections, like chips and cracks. In some cases, however, cosmetic tooth bonding is the better choice. This non-invasive procedure fixes damaged teeth in no time at all. One visit to your dentist and multiple teeth can be repaired and your smile renewed.
Get a Smile Makeover in NYC
Find out if you're a good candidate for a two-procedure smile makeover. There are plenty of duos that make fine pairs and produce beautiful smiles. Contact Dr. Michael J. Wei today to schedule an appointment or submit a Smile Virtual request online for a virtual consultation to learn what's possible for your new smile.