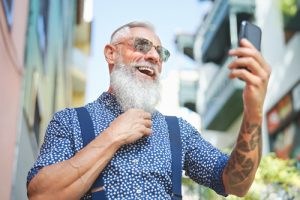 Talk show host Kathie Lee Gifford recently made headlines when she said, "I'm just looking for a guy that's got real teeth." The 67-year-old claims to still have her own teeth, but no one should be out of the running for love just because of their teeth. If you're living with a broken-down smile, it's time to learn about the incredible dental restorations that can create a natural-looking smile makeover.
Replace Missing Teeth with Dental Implants
It's so important to replace missing teeth. Not only is it unsightly to have a smile full of holes or a smile that's missing half its teeth, your appearance will eventually suffer from the absence of the teeth. Over time, when the jawbone goes unstimulated because of absent tooth roots, it will begin to deteriorate, leading to a shrunken or compressed appearance.
If you're missing one tooth, multiple teeth, or an entire arch of teeth, you are not doomed to a life with dentures. Many people avoid going to the dentist to replace their missing teeth because they don't want to live with ill-fitting, removable dentures.
The good news: Today's dentures are far more reliable and comfortable. Often, they are used in conjunction with dental implants to create a permanent solution that locks in place, does not cover the palette, and looks and feels like natural teeth.
Dental implants replace missing tooth roots, stimulate the jawbone, and solidify your smile for a refreshed look and teeth that look natural and are fully functional. You'll be able to meet your match, enjoy your dates, eat whatever you want, and look like you're living with a mouthful of original teeth.
Rebuild a Broken-Down Smile
Many people experience a deteriorating smile for reasons beyond their control. Maybe you grind your teeth at night and this unconscious habit has led to cracked or chipped teeth, gum recession, and damaged dental work. Perhaps you were in an accident or fall and damaged many of your teeth.
Rebuilding a broken-down smile, whether it's in poor shape because of age, circumstances, or otherwise, is always possible. Full-mouth reconstruction rehabilitates both teeth and gums through multiple dental treatments, including restorative dentistry, cosmetic dentistry, and neuromuscular dentistry.
An unsightly smile is a functional problem and aesthetic nuisance, but it also damages a person's self-esteem and confidence. If you are embarrassed by the state of your teeth, you are less likely to smile at others, speak up, or draw attention to yourself.
If you're looking for love, a completely customized smile makeover repairs and replaces teeth and gives you a smile that's healthy inside and out. You'll look better, feel better, and your teeth will look natural, even if they're not.
Get a Smile Makeover for Natural-Looking Teeth
Gifford is 67 years old and, like many widows, finds herself with a whole lot of life ahead of her but no one to share it with. No matter your age or gender, you deserve to look and feel your best every day of your life – and that can begin by having a smile you're proud of.
Upgrade your teeth and oral health with help from Manhattan dentist Dr. Michael J. Wei. Schedule your consultation at his Midtown office, or submit a Smile Virtual request online from the comfort of your home.