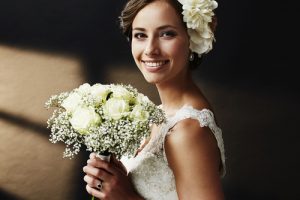 Some couples spend months or even years planning their wedding. While you're shopping for the right venue, photographer, florist, and more, you'll be thinking about how to look your best for the big day. You may be working out and dieting, but don't forget about the feature that will be front and center on your wedding day – your smile. Make sure a smile makeover is part of your wedding prep.
Make a Tweak or Two
Your smile may be straight and healthy, but there are a few aspects of it that make you self-conscious. If you have stained or discolored enamel, a professional teeth-whitening treatment can transform your smile, making it multiple shades whiter. This treatment can happen in your NYC dentist's office in about an hour, or you can have customized whitening trays made for you to whiten on your own time over a few weeks. The results are the same, thanks to professional-grade bleaching products that truly blast away stains.
If you have a few teeth that are misshapen, unsightly, or damaged in some way, you can tweak them with a quick and easy solution like cosmetic tooth bonding. Correcting a tooth with this method only takes about 30 minutes per tooth and the results are natural-looking and blend in with the rest of your teeth to fully beautify your smile.
Straighten Up
If you start a course of Invisalign treatment now, by a summertime wedding your teeth will be shaping up nicely. If your smile isn't that crooked or you only have a few areas to straighten out, your treatment might even be complete by your wedding day.
Invisalign won't get in the way of wedding prep either. The aligners are clear and nearly invisible so you can go about all your meetings with wedding service providers without feeling self-conscious, unlike conventional orthodontics with their brackets and wires. Engagement photos to take? Parties to attend? Just slip out the Invisalign trays when you feel like you need to – but they really are discreet so you may not feel like you need to remove them at all.
Perfect Everything
Are you ready to commit to a true and complete smile makeover that will transform your appearance and give you that celeb-level smile that you have long dreamed of? Time to find out whether you're a good candidate for porcelain veneers. This cosmetic dentistry treatment is the apex of smile makeovers, the procedure that will transform your teeth permanently and give you a VIP smile that will shine on your wedding day.
No matter what kind of cosmetic complaints you have about your smile, getting veneers – or Lumineers, or no-prep veneers, or Microthin veneers – will ensure that each and every problem is fixed. Chips? Cracks? Stains? Gaps? Misalignment? Veneers are carefully designed in shape, size, and color to complement your appearance, look natural, and give you a gorgeous grin.
Get a Smile Makeover in Time for Your Wedding Day
No matter when your wedding is, there is a timely cosmetic dentistry treatment that can beautify your smile and help you look like the very best version of yourself. Contact Dr. Michael J. Wei today to schedule an appointment or submit a Smile Virtual request online for a virtual consultation to find out what's possible for you.