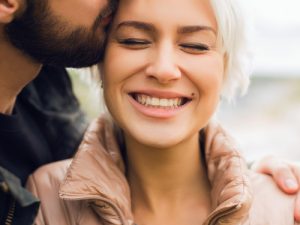 Whether you're paired up with the love of your life, the love of right now, or you're still on the hunt for your perfect match, a flawless smile will make you feel better about yourself and make you imminently more kissable. It's time to discover the smile makeover components that will encourage you – and the object of your affection – to want to pucker up.
White and Beautiful Teeth
If your teeth are stained or discolored, you're probably reluctant to reveal them – especially to a love interest. If someone does get a good look at them, you may worry they'll be turned off and completely resistant to kissing you because of the color of your teeth. You don't have to live with an off-color smile!
There are many ways to whiten your teeth, starting with, of course, professional teeth whitening. These powerful bleaching products blast away stains that are in and on your teeth to make them multiple shades whiter.
If you have teeth that are naturally tinted and not all that white, however, no amount of whitening will make a dent in their color. A more robust cosmetic dentistry solution is called for in that case, like porcelain veneers. Not only will they whiten your teeth, veneers will perfect your smile completely, making it straight and flawless. You won't know who to kiss first!
Easy Tweaks with Big Impact
When you feel like your smile is not kiss-worthy because of a few unsightly issues with your teeth, you need to know just how easy it is to correct them.
Hate your silver fillings? You should – they don't look good and they're unhealthy too. Have them replaced with tooth-colored fillings that blend in and make your tooth stronger. Have one tooth that is just out of place and stands out for all the wrong reasons? Fix it with a customized porcelain crown that will match the rest of your smile. Have one jagged or misshapen tooth? Cosmetic tooth bonding can correct it in about 30 minutes. You don't have to go all in with major dental care to get a powerful smile makeover that is worthy of some serious kissing.
The Power of Breath
Finally, one of the most important elements of a kissable smile is good breath. If this is something you struggle with, know this: Bad breath can't be completely concealed with minty gum or breath sprays. There is a difference between eating onions and garlic for lunch and having stinky breath for the afternoon and having bad breath all the time no matter what you eat.
There could be many causes of bad breath. If you have a dry mouth you won't have enough saliva washing over your teeth and ridding them of the gunk that sticks around. Hidden infections and decay can cause bad breath, and, of course, if you have poor oral hygiene and don't brush and floss regularly, your breath will stink.
Your NYC dentist can help you identify the cause of your bad breath and address it. Sometimes, the solution is as simple as a tooth-colored filling to repair decay that has been left to fester too long. Sometimes all you need is a thorough teeth cleaning.
The Path to a Kissable Smile
Whatever your oral health concerns, whatever your hopes for the appearance of your smile, Midtown Manhattan cosmetic dentist Dr. Michael J. Wei can give you what you need for a truly kissable smile. Schedule your appointment or submit a Smile Virtual consultation to discuss what's possible and find out what's next for you.