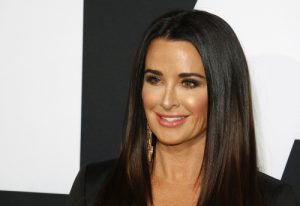 Kyle Richards, of The Real Housewives of Beverly Hills fame, changed her smile a few years ago. The biggest revelation is not that she upgraded part of her appearance, but that she was "under the impression you had to 'shave' your teeth way down." When she found out that wasn't the case, she went for it, and now has a perfect smile she shows off as often as possible. You can do the same with the right kind of cosmetic dentistry.
Types of Non-Invasive Veneers
Richards said, "My teeth were fine. They were just small and didn't really show when I smiled. Plus, they started crowding. Invisalign wasn't working for me because I wouldn't wear them 22 hours a day." Her reality came down to a permanent cosmetic dentistry solution that would only take an appointment or two to complete instead of daily work and a year of treatment like Invisalign.
While Richards hasn't said what kind of smile makeover she invested in, we are willing to guess that it's one of the following:
Microthin veneers: Very thin porcelain that fits seamlessly over natural teeth and eliminates the need for enamel removal.
Prepless veneers: Incredibly thin composition that requires only the need for a cleaning and sanding of the teeth.
DURAthin veneers: Super-thin porcelain veneers that adhere directly to the front of the teeth without removing any enamel.
These veneer procedures are not only completed more quickly and more easily than traditional veneers, they allow for a reversal of the procedure years later. Though we can't imagine anyone would want to revert to their old smile once they've enjoyed the benefits of the new one.
Other Ways to Perfect Your Smile Without Veneers
To help her fans who might be dealing with the same issue, Richards decided she would open up about her cosmetic dentistry journey. "I'm sharing with all of you because a lot of you have told me you had the same issue and I think you would have noticed anyway since I never smiled showing my teeth. I'm really happy that my smile now matches my mood." Wouldn't it be nice to have such freedom yourself? Especially if you're self-conscious about your teeth?
If veneers aren't in your budget or you don't feel like you need such a large smile makeover, there are other ways to tweak your look to get that perfect smile:
Cosmetic tooth bonding: Have a few misshapen or unsightly teeth? Cosmetic tooth bonding corrects small problems quickly and easily in one dental visit to perfect your smile and eliminate all the things you dislike about your teeth.
Laser gum lift: Instead of altering your teeth, alter your gums. Laser gum recontouring eliminates excess gum tissue responsible for short or small teeth, giving you a bigger, wider smile.
Professional teeth whitening: This is the easiest and fastest way to transform your smile, even if it's not perfect. A teeth whitening treatment from your NYC dentist will give you a grin that's up to eight shades brighter.
Want to get your own Housewives-worth smile makeover? Look no further than Dr. Michael J. Wei, located in Midtown Manhattan. Schedule an appointment or submit a Smile Virtual request to get your smile makeover started.