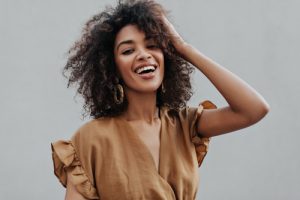 Everyone has their own definition of perfection. When it comes to smiles, straight, white, flawless teeth aren't the be-all, end-all for everyone – but they sure are something to strive for if you can. Your NYC cosmetic dentist appreciates your subjective idea of a perfect smile and is ready to help you achieve it in the new year and beyond.
Here are just 10 general dentistry, restorative dentistry, and cosmetic dentistry treatments that can help you get a perfect smile in the new year:
1. Teeth Cleaning
If your teeth are in good shape and your smile only needs a little tweak to look better, rely on the basics – a professional teeth cleaning. This appointment ensures you leave with a smile that is free of plaque and tartar and expertly polished to a high shine.
2. Teeth Whitening
Fast, easy, and incredibly effective, a professional teeth-whitening only takes an hour in your dentist's chair. Teeth will be multiple shades brighter and, even if they're not perfect, they'll give the illusion of perfection.
3. Porcelain Veneers
When you have a little more time to spend and several imperfections to conceal, porcelain veneers get the job done. The size, shape, length, and color of your teeth are customized to give you a truly perfect smile that makes you look like a VIP.
4. Cosmetic Tooth Bonding
A damaged, imperfect, or unsightly tooth doesn't require a major intervention to make it go away. Cosmetic tooth bonding only takes about 30 minutes per tooth to apply and wholly change the appearance of your smile.
5. Laser Gum Lift
Too much gum showing and not enough teeth? A laser gum lift is the solution to a broader, brighter, bigger smile. This meticulous recontouring delivers immediate, dramatic results by revealing more tooth enamel.
6. Porcelain Tooth Crown
Crowns don't just fix teeth, they beautify them. If you have one stained, chipped, or otherwise imperfect tooth that's marring your entire smile, a customized tooth crown can cover up the problem and blend into the rest of your smile for a natural look.
7. Tooth-Colored Fillings
Silver fillings interfering with a perfect smile? Replace those unhealthy restorations with tooth-colored composite fillings, which are safer and look like your tooth enamel. These fillings can also be used to make small cosmetic repairs to teeth.
8. Full-Mouth Reconstruction
If you need major repairs to your smile, in appearance and function, full-mouth reconstruction may be in your future. This collection of dental procedures are designed for your unique mouth to restore your oral health can give you teeth that look and feel good so you can bite and chew confidently and smile happily.
9. Dental Implants
If you have one or more missing teeth, a dental implant is the most secure, permanent way to replace those teeth. The implant fuses with the jawbone and takes the place of the missing tooth root for a strong, natural-looking restoration.
10. Invisalign
If your idea of smile perfection is a straight smile, find out if you're a good candidate for Invisalign. The clear aligners of this treatment move your teeth a few at a time until they're in complete alignment and look perfect.
Get a Perfect Smile in the New Year
Smile perfection is possible in this new year, no matter your budget or comfort level. Schedule a consultation with Dr. Michael J. Wei at his Midtown dental office to discuss your smile goals and find out what treatments are right for you.