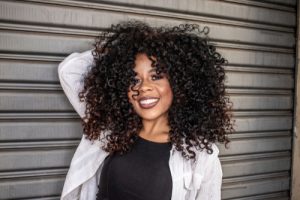 People who are unhappy with their gummy smile are typically living with short teeth too. An excess of gum tissue covers up tooth enamel, making a smile look juvenile and incomplete. When you work with an experienced cosmetic dentist who has an exceptional eye for symmetry and design, you can change these unwanted characteristics and get the ultimate fix for a big, white, beautiful smile.
Say Goodbye to a Gummy Smile
If you have a gummy smile, you need to get rid of the excess gum tissue. How does that happen? Easily, with a sophisticated laser gum lift treatment.
Gum recontouring is now easier and more comfortable than ever before. A laser gum lift is minimally invasive and reshapes the gum line quickly and comfortably. The laser gently removes unwanted gum tissue, exposing more tooth enamel. The procedure is precise and accurate and you will see the dramatic revision to your smile immediately.
But you don't have to stop there…
Get a Perfect Smile with Microthin Veneers
Your NYC cosmetic dentist may recommend adding a second cosmetic dentistry treatment to your smile makeover after a laser gum lift – porcelain veneers. This addition delivers additional length to your short teeth and freshly revealed enamel for optimal cosmetic results.
You can select from several types of veneers, though many patients today are saying yes to prepless Microthin veneers. These porcelain shields are even thinner than traditional veneers, and they don't require the removal of any tooth enamel to make room for them. It's a minimally invasive treatment that utterly transforms a smile from so-so to stunning.
The combo of a laser gum lift and veneers corrects the tooth-to-gum ratio perfectly, more so than just the laser treatment alone.
Causes of a Gummy Smile and Short Teeth
There are many causes of a gummy smile. Why you have the smile you have will affect what types of cosmetic dentistry treatments you're eligible for to correct the excess gingival display.
Genetics: Sometimes you and your family simply all have more gum tissue than you would prefer.
Enlarged gums: A gum overgrowth is common in gingivitis. It's a gum enlargement characterized by swollen or inflamed gums.
Partially erupted teeth: If your adult teeth never erupted properly or fully, they may remain partially covered by gum tissue, making them look short.
Lip size: If your lip is too short or it lifts too high when you smile, more gum tissue will be visible and this impacts the appearance of your smile.
Sign Up for a Smile Makeover Near Me in NYC
The thing to remember with a gummy smile is that it's mostly a matter of perception. Some people are perfectly satisfied with their excess gums and short teeth. Others want a perfect smile that doesn't have such noticeable traits.
If you're embarrassed by your gummy smile and short teeth, you don't have to live with this appearance. You can get a balanced smile that has the proper proportions from Dr. Michael J. Wei, Manhattan cosmetic dentist. Submit a Smile Virtual form or schedule an in-person consultation to learn more about what's possible for your smile makeover.