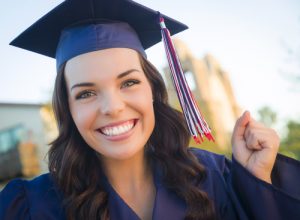 If you're graduating from college, grad school, or any other form of higher education, you've spent years prepping yourself for this degree, this life's calling you've chosen. It's only right that you should go into the professional world looking and feeling your best, and you can do that with a customized smile makeover. Prepless veneers don't require any preparation on your part – your NYC cosmetic dentist does all the work and all you have to do is smile.
What's So Great About Prepless Veneers?
When you've put time, energy, and money into a higher degree, you know exactly what you've invested in – so it's natural to want reassurance about prepless veneers too. What's so great about this cosmetic dentistry treatment? Plenty.
Little to no preparation necessary
Only light sanding and teeth cleaning is needed
Enamel doesn't have to be shaved off
Made of super-thin porcelain that is not bulky or obvious
Customized in size, shape, and color
Natural-looking result
Stain resistant porcelain
When your smile makeover is complete – and it only takes two visits to your cosmetic dentist – you will have teeth that look flawless, and give you the confidence and self-worth to go out into the world and take your piece of the pie.
Why You Should Choose Veneers
If you're concerned about presenting the best possible resume to potential employers, colleagues, clients, or other institutions of higher education, how you look plays into the game. You might not put any photos on your applications, but once you land an interview or any face-to-face meeting, once you're attending a networking event or rubbing elbows with alumni, you need to look good in person. Even if your connections happen via Zoom, your appearance matters.
If porcelain veneers are your cosmetic dental procedure of choice, your smile makeover will pay dividends. You will look:
More attractive
Capable
Sophisticated
Intelligent
Happy
You worked hard to get your brain into the state that it's now in, and you've earned your degree, but the smartest graduates know that sometimes there are other elements – like prepless veneers – that make all the difference between success and failure.
You've Earned a Smile Makeover
Some people have looked at their smile in the mirror for years and thought about how they will one day make a change, get a smile makeover, improve their look. You may not think you have the resources or that you've earned the privilege at this new stage of your career but allow your Manhattan cosmetic dentist to tell you otherwise – you have indeed earned the privilege, and having amazing teeth will only enhance the career you have ahead of you, whether you're working in law, business, education, the arts, technology, or otherwise.
Good teeth and a stunning smile are an important asset in any field. Now is the time to find out if you're a good candidate for prepless veneers or if another type of cosmetic dentistry is better for what's going on with your teeth. Contact Dr. Michael J. Wei to schedule a consultation at his Midtown Manhattan dental office and set yourself up for a lifetime of success. We know for certain that people can build their careers, their lives, their future on the foundation of a fabulous smile.