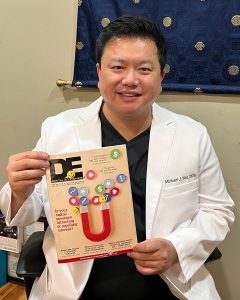 Dr. Michael J. Wei is known for creating meticulous, flawless new smiles for his patients, and now he's written about a minimally invasive smile makeover case for Dental Economics magazine (@dentaleconomicsofficial). A magazine with over 100,000 dental subscribers, including dentists, hygienists, and others in the field, Dental Economics showcases Dr. Wei's experience and expertise.
The Minimally Invasive Smile Makeover Case
"Smile Makeover: A Minimally Invasive Recipe for Esthetic Success" is the title of the article in Dental Economics and features an interdisciplinary case study using minimally invasive techniques to achieve an esthetic smile makeover for a 21-year-old patient with dental anxiety. Dr. Wei worked on this April 2022 article and the case itself with his colleague Dr. Scott Froum who did an amazing job with the crown-lengthening portion of the case.
"This patient was extremely self-conscious about her smile and avoided treatment because of her dental fear. She avoided smiling and being in pictures," says Dr. Wei. But this NYC cosmetic dentist is all about making opportunities into realities, especially for patients who are reluctant about getting the dental care they want and need. "With minimally invasive dentistry, planning, and great team communication, we were able to decrease healing time, chair time, and the number of required appointments," says Dr. Wei.
The patient herself backs up this success story in a written testimonial. "I'm not embarrassed anymore about smiling and taking pictures. I am more confident in social settings and love hearing from my friends and family about how natural and beautiful my smile looks." The entire article about Dr. Wei's anxious patient can be read at Dental Economics online.
Making a Smile Makeover a Reality for Any Patient
Smile makeovers change lives. Dr. Wei outlines in his article how he changed the life of just one patient who came in complaining mostly of stained and damaged front teeth and her dental anxiety. In five visits, her smile makeover was complete:
Visit 1: Digital x-rays and impressions are taken. Patient assists in selecting the shape of her teeth.
Visit 2: Laser gum dentistry is done to lengthen the teeth in a minimally invasive procedure. Four weeks of healing time follow.
Visit 3: More impressions are taken and sent to the dental lab for the creation of customized veneers.
Visit 4: The patient agrees to the color, shape, size, and overall look of the veneers and they are permanently applied.
Visit 5: There is a post-op check one week after application and any adjustments are made as needed.
Not every smile makeover takes five visits to complete. Many, in fact, take only one or two visits. It depends on how complex your case is, how many cosmetic dentistry procedures must be done to achieve the desired appearance, and your comfort level with multiple treatments occurring in one visit. By spacing out the dental work for short treatment times and being aware of this patient's dental anxiety, Dr. Wei and his team were able to create a beautiful, new smile with no stress.
Get a Minimally Invasive Smile Makeover
Read Dr. Wei's full article and see the before-and-after case for his patient. If you're ready to make a change for yourself, schedule an appointment with Dr. Wei or submit a Smile Virtual request for a convenient way to get your smile makeover started.