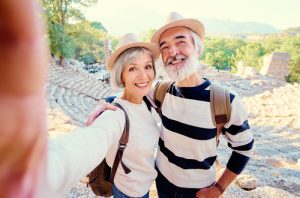 If you can't wait to get out of Manhattan for island-hopping, international waters, European cities, or beyond, make sure your smile is ready for summer vacation. There is still time to get a customized smile makeover that complements your appearance and completes your overall look, no matter what you're wearing, no matter where you're going.
If You Have Time to Spare
So many patients are ready to finally invest in porcelain veneers to transform their teeth into perfection, and they decide to make this change just before their vacation. Follow the same parameters and you will feel better about yourself, your selfies, and all your time off when you know you look your very best.
Porcelain veneers come in several forms and do take a few weeks to complete. Not every patient qualifies for every type of veneers, but there's a good chance there is a version that's makes you a good candidate for this cosmetic dentistry treatment before you hit the road:
No-prep veneers: Custom-made to adhere to the front of your teeth and the only necessary prep is a teeth cleaning and maybe a light sanding – no enamel removal for this smile makeover.
Microthin veneers: Super-thin porcelain that fits seamlessly over the natural teeth, which means there's no need for tooth enamel removal to guarantee a perfect fit.
DURAthin veneers: Very thin porcelain shells that are snugly bonded to the front of the natural teeth without any need for drilling or reduction of healthy tooth enamel.
Conventional porcelain veneers: Teeth are reshaped and enamel is reduced to make room for the porcelain veneers.
If You're in a Rush
Don't have much time to spare before you hop on a plane, a cruise, or into a car? One of the fastest yet most effective smile makeovers you can invest in is professional teeth whitening. There are several types of whitening options that are quick to undergo and long-lasting:
ZOOM! teeth whitening: In-office whitening treatment that makes teeth up to eight times whiter in about an hour using powerful bleaching agents and laser lights.
Rembrandt Sapphire teeth whitening: Ideal for transforming dingy, brown, gray, yellow, or stained teeth into dazzlingly white teeth in one hour.
Opalescence Boost Whitening from Ultradent: Delivers the amazing teeth whitening perks of its colleagues without any light needed.
KoR Whitening: A carefully calibrated bleaching treatment that makes your smile sparkle and tackles some of the most stubborn stains.
Take–home teeth whitening trays: For those who prefer to whiten their teeth on their own time, get customized molds of your teeth and bleaching gel for a whiter smile in two weeks.
Choose Your Smile Makeover
Porcelain veneers and teeth whitening are just two cosmetic dentistry options for your smile makeover. Every patient's new smile is unique to them, and that might mean one procedure or several. Your choices will depend on where your smile is now and what your smile goals are. Ultimately, you and your Manhattan cosmetic dentist are on the same page – create a new smile that is flawless and flattering for your vacation and everything after.
Contact Dr. Michael J. Wei to schedule a consultation at his Midtown Manhattan dental office and get your smile makeover started. It's good to be prepared for your vacation, and these smile upgrades will keep you looking good for years.