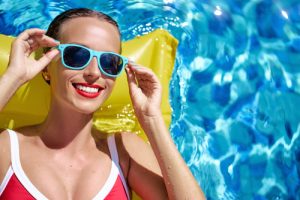 For some people, summer is all about looking good in a bathing suit. Other people have reached a point, however, where they don't care about bathing suit weather – they need more. They want a smile that looks amazing no matter what they're wearing, wherever they go, from Midtown to the Village to the Hamptons and beyond. A smile makeover with prepless veneers delivers, whatever your summer plans.
Preparing for Prepless Veneers
The main draw of no-prep veneers is that it isn't necessary to sand away significant tooth enamel to make room for the veneers. Patients like knowing they can reverse their treatment because their natural teeth haven't been altered in any way – but most people never want to change a thing because their new teeth are so much better than what they ever had.
For anyone who is concerned about invasive procedures on the path to a flawless smile makeover, you don't have to worry with prepless veneers and here's why:
No aggressive tooth preparation necessary
No chance of over-preparing teeth
Only light sanding and teeth cleaning are necessary to prep for transformation
Some patients will combine veneers with a laser gum lift, making it possible to get a bigger smile and eliminate short teeth. This will have to happen before any other efforts are expended.
Are You a Good Candidate for Prepless Veneers?
There are different types of veneers that are made of slightly different materials, and because of these differences not everyone is a great candidate for every kind of veneer. Prepless veneers are made of durable, strong, stain resistant porcelain and – just like other veneers – are designed to cover up all the cosmetic complaints you have about your most visible teeth.
Prepless veneers are typically ideal for the patients who have minor dental problems and a healthy, clean foundation of natural teeth. The preparation for them – as the name implies – is minimal. Since the prepless version is incredibly thin, they are far more translucent than their counterparts, making it difficult for patients to qualify who have severe stains or discoloration, moderate misalignment issues, or large teeth.
None of this is to say that you can't get veneers – there's a great chance you can, they just might not be the version you were hoping for and you'll need some preparation beforehand to make this smile makeover possible.
Get a Virtual Consultation.
As summer approaches, your dentist knows you're busy, so take advantage of the Smile Virtual option to consult with Dr. Michael J. Wei virtually. You can show him your teeth and explain your concerns and hopes and receive a personalized video in return that gives you a good idea of the kind of cosmetic dentistry treatments that might just the right transformation for you.
When the time is right, you can make an appointment and find out even more about prepless veneers. Just don't wait too long or summer will be gone – though, truly, any time of year is a good time of year for a new smile.