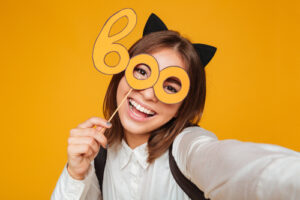 Some people take Halloween very seriously. It's an event, an occasion, a weekend-long celebration. The more people you can impress, the bigger a success the holiday will be. When it comes to adults and Halloween, this time of year is less about candy and all about looking good. Unless you're planning to dress up like Beetlejuice with his mossy green teeth, you'll want your smile makeover to look good for all your haunts in and out of Manhattan.
There's Plenty of Time to Make a Change
If you're not a planner, but you're reading this, know that you have plenty of time to completely transform your smile before October 31. One of the biggest and most impactful changes you can make to your smile that will make any Halloween costume pop – and help the rest of your wardrobe look amazing too – is prepless veneers.
This cosmetic dentistry treatment is a porcelain veneer procedure, but far less invasive in nature. Prepless veneers require minimal prep of your teeth, if any prep at all. That means no sanding down tooth enamel to make room for the veneers or altering your natural teeth in any permanent way. This procedure typically requires only two visits to your dentist with about two weeks in between the visits to allow time for the porcelain shields to be made by the dental lab. For anyone who's ever considered veneers but shied away from the preparation, this treatment is an amazing alternative.
Make sure you work with a NYC cosmetic dentist who is experienced and certified to give you a prepless or Microthin veneers smile. It takes a meticulous artist and expert cosmetic dentist to construct a natural-looking smile that is all you, costume or no costume.
Get a Quick Smile Makeover
If you have long been a fan of the Sanderson sisters, you know those women do their best to look good. One may have needed braces but the other two did all their Hocus Pocus with some decent teeth – and what better way to set them off than with some fabulous lipstick?
If you're drawing attention to your face with stunning makeup for your costume, you want to back it up with perfect teeth. Then again, you could create a cool illusion with the help of your Manhattan cosmetic dentist and a procedure like teeth whitening, for example. It only takes about an hour at your dentist's office – that's just enough time to procrastinate, but you don't have to. Patients who are good candidates for this cosmetic dentistry procedure brighten their smiles so dramatically it makes them look like they have perfect teeth, even if they don't. Now that's some Halloween magic – except it lasts for years.
Boo-k Your Smile Makeover Today
You have plenty of time to start planning now and get the perfect smile you deserve. Whatever you settle on with your experienced dentist, Dr. Michael J. Wei, the results will take you through this Halloween and years of holidays to come.
Abandon the fake teeth and masks that would conceal any unsightly teeth. Invest in a smile makeover to help you have a Happy Halloween. Schedule an appointment today for a consultation with Dr. Wei.